Location
Categories
Tags
Designers
Vendors
Venues
I'm just gonna go ahead and say it: I love every single inch of this wedding. From the super cool industrial-like venue to the sweet vintage touches, this wedding is absolutely the coolest. Each and every detail was captured perfectly by our friends at Untamed Heart Photography, including the cutest moment between the the flower girl and ring bearer. I mean really, does it get any cuter? There's tons more to see in the full gallery, so click here and get ready to swoon!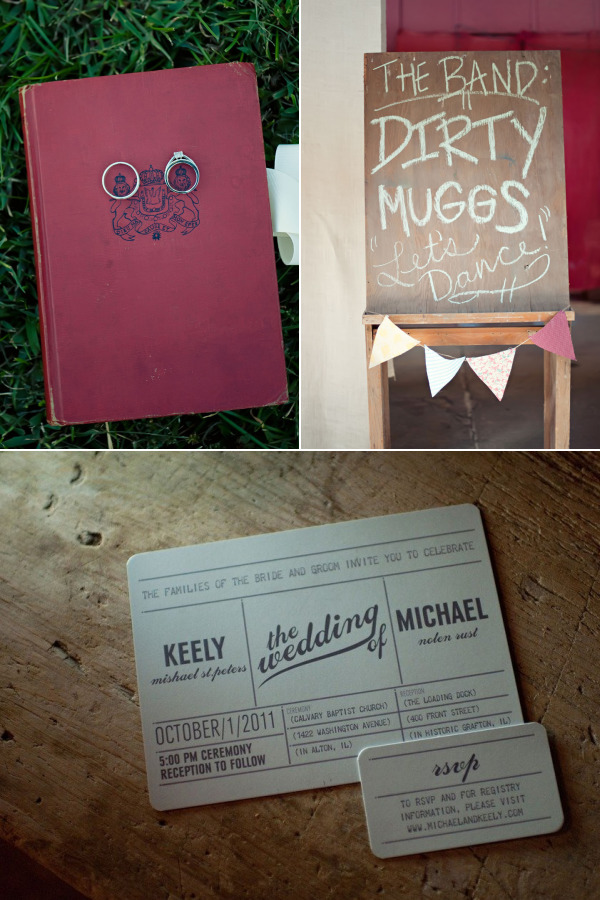 Click here for the FULL wedding!
From Michelle of Untamed Heart Photography… Keely and Michael have been together since their freshmen year in high school. They are two of the most amazing people I have ever met.  Before the ceremony, we met up for portraits in the quaint little towns of Elsa and Grafton, Illinois. They were both the perfect backdrop for the wedding party. It just so happened that the Nina and the Santa Maria were docked at the reception venue when we got there, and they were kind enough to let us aboard for some photographs. How many people can say they did that on their wedding day? All of the bridesmaid dresses were custom made in complimentary fabrics and colors. Flowers were purchased wholesale at Baisch and Skinner with the exception of the bouquets, which were designed by a local florist.
Photography: Untamed Heart Photography / Planning + Design: DIY by the bride & her mother / Ceremony: Calvary Baptist Church / Reception + Catering: The Loading Dock / Invitations: Sherrie Hickman / Dress: Jasmine Bridal / Shoes: Paradox London / Bridesmaids Dresses: Custom-made by Sharon Rothe, a family friend / Officiant: Julie Gvillo / Cake: Duke Bakery / Other Desserts: Groom's mother and sister / Bridal Party Flowers: Jeffrey's Flowers by Design (618-259-6292) / Centerpiece Arrangements: DIY, Flowers purchased from Baisch & Skinner / Hair: Derek Trent of Vintage Hair Salon (618-462-1800) / Makeup: Holly Speakes of Procolour Cosmetics / Ceremony Music: Audri & Aaron / Reception Music: Dirty Muggs / Groom's Suit: Michael Kors / Transportation: Champagne Limousine / Bride's Quarters: The River House / Groom's Quarters: Guest House at The Loading Dock

Untamed Heart Photography
is a member of our Little Black Book, Love what you see? Take a look at their portfolios. For more information on how Little Black Book Members are chosen
click here
.