Location
Categories
Tags
Designers
Vendors
Venues
Christmas is over, but that doesn't mean the pretty party has ended. We still have so much to celebrate here at SMP Illinois…like this gorgeous (believe it or not) budget friendly wedding photographed by Megan Thiele Studios and designed perfectly by Eleanor Kahn. We're totally in love with the bride's beyond gorgeous dress, the sweet vintage-eclectic feel of the decor, and how personal the couple made their special day by paying tribute to their theatre background and hosting the reception at an historic theatre in downtown Galena. Click here for even more.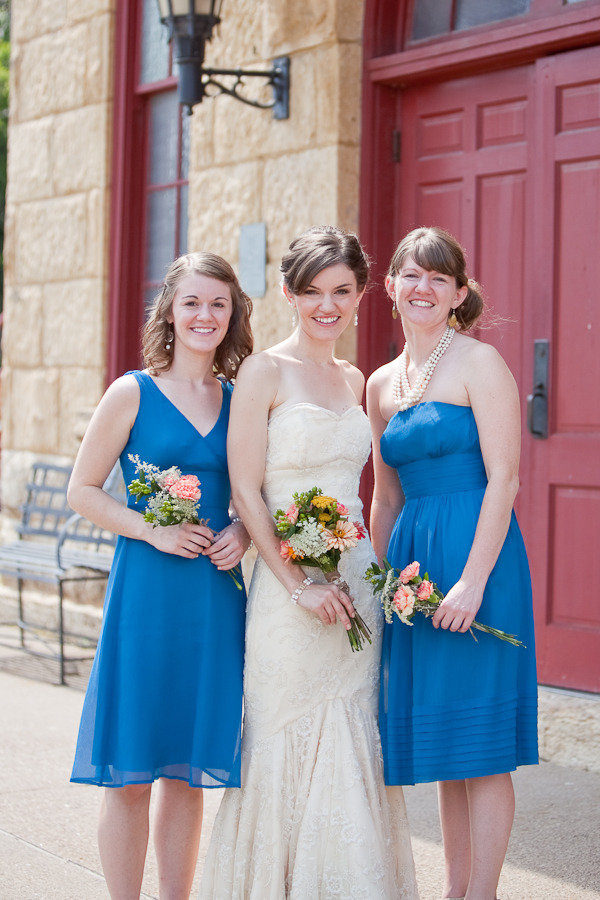 Click here to see the entire gallery of images!
From the Bride…We are happy to say that being on a tight budget did not keep us from having the perfect wedding day for the two of us. In fact, we think the budget was a blessing in disguise, as it allowed us to leave out the unnecessary and focus on what was truly important to us. Thus, every detail was carefully considered and we ended up with a great amount of personal, meaningful details. With the help of our good friend and wonderful designer Eleanor Kahn, we were able to infuse our celebration with bits of charm, elegance, and personality, while maintaining a simplicity perfectly matched by our backdrop of the lovely, historic town of Galena, IL. It was the perfect setting for our families and friends to come together and celebrate with us.
Will and I met doing summer stock theater, also in a small, historic, Midwestern town, so once we settled on Galena as a wedding location, the pieces started to come together. Galena has many wonderful bed and breakfasts, an amazing Main Street full of shops and local businesses, and much more making it a perfect weekend getaway for our guests. Eleanor's design incorporated vintage touches such as antique books and trinkets, lace, and simple signage, which fitting for our personalities and the atmosphere of Galena.
We held our ceremony in a private, secluded garden in the hills of Galena and were married by the man who introduced us – our theater director and now a wonderful friend of both of ours. We worked together to write a ceremony that was meaningful for both of us. I went to grad school for vocal performance, so naturally had the perfect vocal ensemble of some of my best friends to provide stunning music during the ceremony, and Will's father played classical guitar for our processional. I wore a dress made by my mother (who had sewn her own dress 30 years ago for her wedding day) and a garter embellished by the charm from her bridal necklace. My engagement ring is a family heirloom, passed down to Will from his grandmother. The earrings and bracelet I wore were hand made for me by a friend's mother. My two sisters served as my co-maids of honor, and my two brothers the ushers, while two of Will's close friends were his groomsmen.
Following the ceremony, rather than separating from our guests, we walked with them through the streets of Galena to our reception location, a historic theater in downtown Galena. Of course, this was an obvious choice due to both of our theater backgrounds and our own history together. It was a unique location that set an appropriate casual but creative tone for the evening. Before we knew it, we were dancing the night away with our family and friends, much thanks to Quain Tull of Rockstar DJs.
Last, but not least, our amazing photographer Megan Thiele-Lorenz of Megan Thiele Studios complemented our own style so beautifully with her creativity and talent. She captured so many amazing moments and was a warm, friendly face that we were so happy to include in our big day.
All in all, we feel so fortunate to have planned and experienced such a fantastic celebration of our love and the support of our friends and families.
Ceremony Location: Linmar Gardens / Reception Location: Turner Hall / Event Design, Floral Design + Invitations: Eleanor Kahn / Wedding Photography: Megan Thiele Studios / DJ: Quain Tull of Rockstar DJs / Rentals: Bel Aire Rentals + Inside Décor / Linens: Linen Tablecloth / Dinnerware: Greenfeet + Webstaurant / Flowers: Valley Perennials / Bridal Gown: Bride's Mother / Bride's Jewelry: Friend / Bride's Shoes: Nine West / Bridesmaid Dresses: J.Crew / Bride's Engagement Ring: passed down from The Groom's grandmother / Wedding Rings: Eli's Jewelry / Groom's Attire: J.Crew / Officiant: Friend (and director of the theater in which they met) / Ceremony Music: Father of the Groom + Friend / Catering: Mary Ann Michel
J.Crew is a member of our Look Book. For more information on how members are chosen, click here.
Megan Thiele Studios
is a member of our Little Black Book, Love what you see? Take a look at their portfolios. For more information on how Little Black Book Members are chosen
click here
.