We may still be donning sweaters and sipping hot cocoa but that doesn't keep us from looking ahead longingly towards spring.  We love weddings from all seasons around here but spring might be our favorite seasons especially with all the gorgeous springtime flowers blooming.  And who better to create a fairytale spring wedding than the floral goddess herself Amy Osaba.  This Dahlongega beauty by Kristen Alexander Photography is overflowing with some of our most beloved blossoms – peonies, anemones and sweet peas.  The gorgeous bride created all the sweet details herself and the outcome is absolutely divine!  See it all in the full gallery!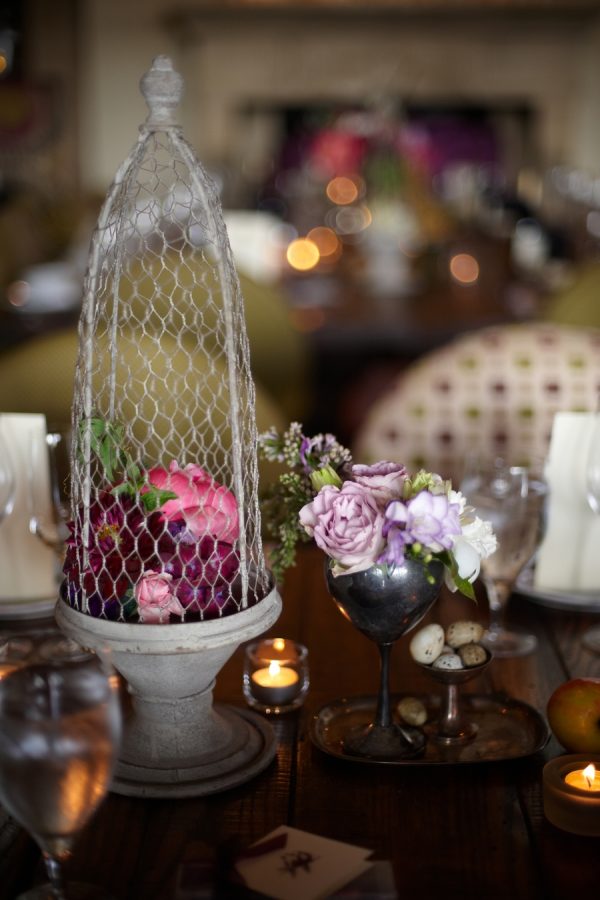 Click here to see all the images in the full gallery!
From the bride… Planning the wedding was a very exciting time, but challenging as well. My mom has always been my best friend, but she was my saving grace during this time. Jarod, my husband, was on deployment in Iraq the entire year prior to the wedding. I wanted to make it special for him as well, and my parents were there to make sure that I could do that. We were able to have a wedding that was better than we dreamed.
I wanted a vintage-style wedding, and it all started with the dress. I fell in love with a Pronovias laced dress I found at Elegant Bride in Dublin. To continue with the old world charm, my mom found crystal broaches and old tie pins from antique stores. She thought the broaches would be great for all the bouquets and the pins would look nice in the men's boutonnieres. My mom and I tried to find broaches and pins that reminded us of the person who would wear it. We also found some headbands with black feathers, and my mom and I added some vintage pieces to them. A few of the bridesmaid's headbands had my great grandmother's earrings added to them. Each piece added to that vintage charm, and made it feel personal.
Jarod and I love the outdoors so an outdoor spring wedding was perfect for us. My parents and I found several venues, and I e-mailed the list to Jarod so that he could have some input even while in Iraq. I chose my favorite, but did not want to bias him, so I kept it a secret. He e-mailed back with several stars next to the name Montaluce Winery, saying he really wanted to have the wedding there. Montaluce was my favorite as well. It could not have been more perfect.
I truly wanted to capture spring throughout the entire wedding. We had fresh field-picked looking flowers, bright colors, and birds throughout. My adorable cousin has been a flower girl in several weddings, and she was unsure about carrying a bird's nest instead of flowers. I fell in love with the idea, something spring-like yet different. When she saw the nest, she gave me the smile that meant she liked it too. My mom and I had so much fun coming up with different ways to marry the vintage and the spring together. We found antique looking bird cages online, and she found vintage postcards with birds on them. We took the idea to Peabody Papers of Columbus, Ohio, and they printed up birds names and the guests tags. This allowed us to place the names on the vintage post cards and create a unique way to name each table after a bird. We placed the bird cages on each table throughout the venue.
The wedding was more than Jarod or I could ever imagine. It went smoothly thanks to the help of Crevolyn and Emily at Wonderful Events. The horse drawn carriage ride to and from the ceremony, provided by Black Magic Carriages, allowed me to include my love for horses. The final touch to make the day so special and romantic was Paul Douglas. His guitar and vocals were beautiful. He learned "Marry Me" by train just for when I walked down the aisle. It all made for an incredible day.
Wedding Photography:
Kristen Alexander Photography
/ Wedding Dress:
Pronovias
/ Wedding Venue:
Montaluce
/ Wedding Cake:
Frosted Pumpkin
/ Stationery:
Peabody Papers
/ Floral Design:
Amy Osaba
/ Horse Drawn Carriage: Black Magic Carriage / Event Planners: Crevolyn and Emily Wiley at 
Wonderful Events and Celebrations