Location
Tags
Designers
Vendors
Venues
Style
Colors
Wow. Not only was this wedding absolutely gorgeous, it sounds like it was one amazing day! After reading the bride's description of her day, I am totally longing to go to a wedding just like this one where guests were entertained all day and night with super cool surprises like when the groom serenaded his bride. So cute and romantic! Marissa Moss Photography captured all the details and special moments while Simply Cinematic played a same day edit video of the couple while they were getting ready for the ceremony. Click here for so much more!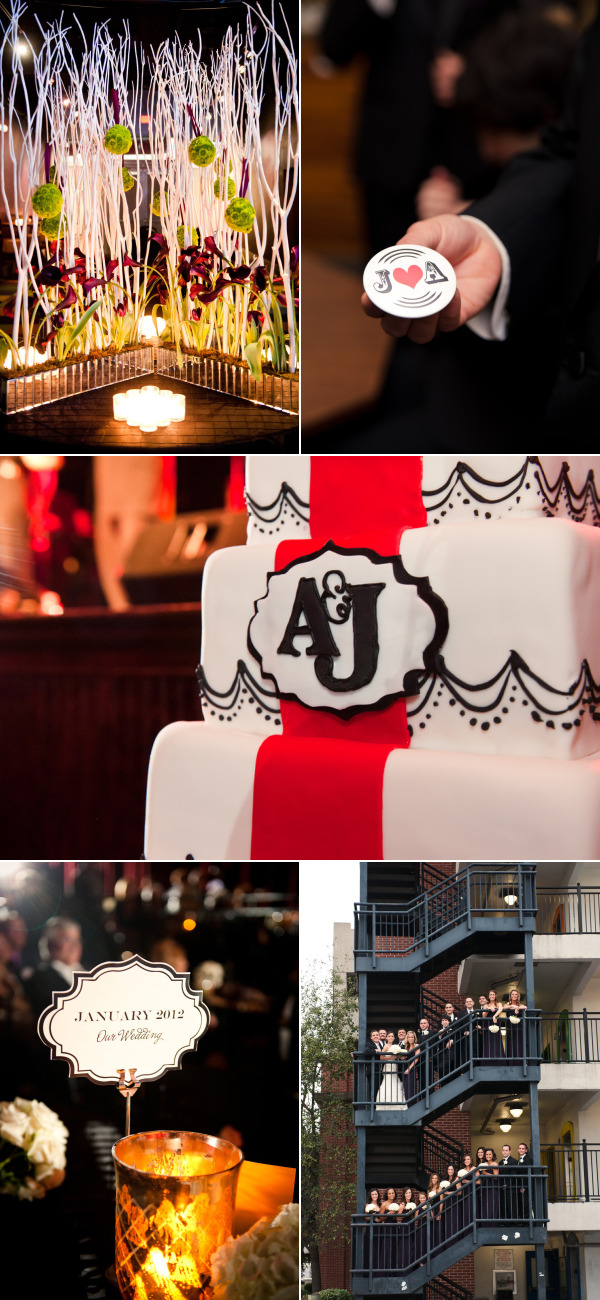 Click here for the FULL wedding!
From the Bride… When Joey and I first crossed paths in 2008 at the University of Florida School of Theatre and Dance, we discovered that we were born in the same hospital, that I had attended the same high school as his mother, and that parts of our families had already known each other for years. This was only the beginning of the parallel universe we seemed to be living in. We wanted our wedding to be a culmination of the influences, events and traditions that lead us to this point in our lives.
Our ceremony and reception venues were a great jumping off point for our planning because they fit with our initial theme and concept of tradition and history. Four generations of women in my family have been married at Sacred Heart Catholic Church in Tampa, so it was an obvious choice. The second we stepped foot into the Ritz Theatre in Ybor City, we knew that between the full proscenium stage, the checkered dance floor, the overall warmth and the vastness of the space, it would suit our performance backgrounds and personalities perfectly. We did not necessarily want a movie-themed wedding, but we couldn't ignore the fact that the reception was taking place in an old movie theatre, and that both Joey and I have a history in entertainment. We were able to find a nice balance of elements. On the exterior of the reception venue, our names adorned the marquee along with engagement photos displayed in the windows like movie posters. The guests entered through the main doorway where they made their entrance on the red carpet. Once inside the main corridor, there were two rooms for guests to mingle during the cocktail hour. The room on the right was "the bride's room," and the room on the left was the "the groom's room." Joey and I selected our own signature drinks and favorite appetizers to be served in our respective rooms.
Because our ceremony started at 2:30 in the afternoon, and the reception wasn't to end until midnight, we worked very hard on the timeline of the wedding. We wanted to keep our guests engaged so that we did not lose them by 10 p.m. Throughout the night, we felt as though all of that planning definitely paid off.  We came up with several events beyond the usual speeches, dances, cake cutting and bouquet toss to fill in the time. Joey sang me a surprise song right after our first dance, which got our guests (and me) going crazy. This was my favorite memory of the night. My parents, Joey and I created an easy four step dance that we quickly taught to the guests and performed together to the song "More" by Bobby Darin in honor of my Nana who recently passed away. Finally, the same-day edit video. Simply Cinematic had shot an engagement session of Joey and I a few weeks before our wedding day. They combined it with footage of us getting ready, of the ceremony at the church and of the beginning of the reception and played it for all our guests on a large screen using a projector. It was absolutely amazing!
The final part of the night was the after party. One of the cocktail hour rooms was transformed into a nightclub, and the other was transformed into a dessert room. We had also been collecting tons of party props such as hats, glasses, boas, necklaces, masks, mustaches and more to use for the after party. You could not even recognize some people because they were disguised from head to toe in party gear. It was awesome because it gave everyone their second wind and another element of surprise. We really wanted to keep our guests entertained throughout the entire night, and I think that is exactly what we did. From performances to party gear, there was truly never a dull moment. The band did not stop playing and the dance floor was never bare. I think that our wedding was a success because everyone there was actively sharing in our love and celebration.  
Wedding Photography: Marissa Moss Photography / Ceremony: Sacred Heart Catholic Church in Tampa, Florida/ Reception: The RITZ YBOR in Tampa, Florida / Floral + Event Design: MMD Events / Wedding Coordination: Karen Wilson + Mary Alice Collins / Wedding Cinematography: Simply Cinematic / Catering: CDB's Southside / Wedding Cake: Chocolate Pi / Monogram + Wedding Invitation Design: URBANcoast / Wedding Invitations: Smock / Band: Southtown Fever / Chair + Table Rentals: PKS Rentals / Wedding Dress: San Patrick via The Dressing Room / Bride's Earrings + Shawl: From Her Great-Grandmother / Bridesmaids' Dresses: Bill Levkoff
Smock
is a member of our Little Black Book, Love what you see? Take a look at their portfolios. For more information on how Little Black Book Members are chosen
click here
.