All posts in

"Sponsored Posts"
When it comes to choosing the gown in which you'll marry your one and only, look no further than Allure Bridals. And with the introduction of the stunningly gorgeous spring 2014 collections, the options are more breathtaking than ever before — I know, it's hard to believe! Featuring soft, light cotton lace and etherial English net as well as rich satin and intricate Swarovski crystal beading, you'll have a hard time choosing just one!
For years, we've swooned over the magical events and weddings crafted by designer Jung Lee. With an incredible eye and an inspired mix and match aesthetic, Jung Lee has opened a brand-new NYC shop and online boutique featuring luxury home goods and entertaining essentials, perfect for couples looking for their dream registry.  Focusing on the customer's own lifestyle and routine, ...
Two years ago I said "I do" to my honey, and since then, life's been good. And when I'm feeling nostalgic and want to relive my best day ever, it's as easy as flipping through my album of wedding photos. As we wedding-obsessed know oh-so-well, it makes all the sense in the world to invest in a fab photographer, and when the time comes to compile all your favorite images? Look no further than...
I'm what you would call an old soul.  A history buff that grew up obsessed with the late 19th + early 20th centuries and even worked as a tour guide in college at a historic mansion, just to soak in the pretty.  So combine my two loves (history and weddings) with some uber-stylish paper goods from the talented Go Go Snap! and it's definitely time for a virtual dance party.  Because these aren't just any...
Saturdays are serious business here at SMP, a day where we break out the yoga pants, make ourselves a nice warm cup of hot cocoa and spend some serious time getting to know the brand new advertisers joining our SMP family.  And on days like today, it's all kinds of awesome with the amazing Love by Lynzie Weddings + Events and Mugshots Photography here to rock your weekend...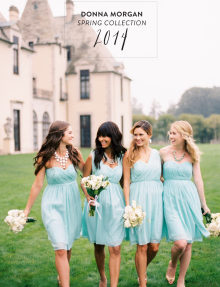 Here at SMP, we love all things Donna Morgan; but when we heard they used photos and feedback from real brides as inspiration for their 2014 spring collection, let's just say our obsession just went up a notch! Taking what they learned...
One wedding day detail that simply can't be overlooked is fabulous food. And with a wedding at Chicago staple Maggiano's Little Italy, you can rest assured that an incredible, made-from-scratch meal will be served! With five Chicagoland locations from downtown to the burbs, all boasting a warm + inviting environment, Maggiano's is the perfect...
There are few things I love more than a toes-in-the sand vacay, and since laying eyes on the gorgeous images from Secrets Puerto Los Cabos Golf & Spa Resort  — opening December 2013 — I've been mentally planning my next getaway! Located in front of the Sea of Cortez, this exclusive resort boasts 500 stunning suites with Unlimited-Luxury® privileges...
SMPers, get ready to be whisked away to the breathtaking island of Mallorca (off the coast of Spain), all thanks to T'estim, the incredibly talented wedding planner who has been designing and coordinating gorgeous events since 2005! It's no secret that putting together destination "I do's" can be stressful, but with a veteran like...