Blog
Location
Categories
Tags
Vendors
Venues
Style
Colors
I love when you can tell a couple has completely infused their personalities and heritage into their big day, and that is exactly what this adorable California couple did! Bright pops of color and a subtle infusion of Hispanic culture made sure the guests at this wedding forgot all about the rain falling around them. The details are overflowing in the full gallery and We Heart Photography caught them all…I promise you'll walk away from this one with a huge smile on your face!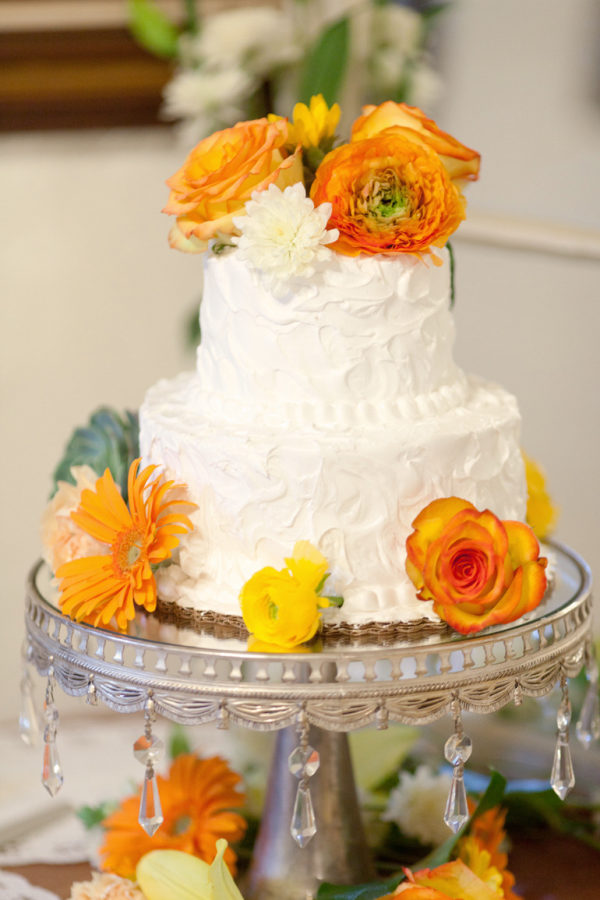 From the Bride… Philosophically, our wedding was called a "Celebration of Marriage" because we've been inspired by so many of the wonderful marriages around us. In practice, this meant that we wanted to showcase all of these marriages, meaning the pastors, parents and bridal party were all asked to include their spouses in every part of the ceremony. Aesthetically, our theme consisted of bright colors and international design (mostly hispanic). We love traveling and our ancestors are of hispanic heritage. For instance, we had colorful Mexican sodas in glass bottles on display (and later for drinking), and we had little wooden bottle openers that we discovered (and bought) while doing work in Uganda. They were simple and cheap but added an international flair to our already-eclectic wedding. We had so many special details: homemade DVD invitations, favors cut and hand written on brown bags filled with candy we bought in Mexico, furniture and items we collected over time from thrift stores and antiquing etc. Our wedding party and family spent the weeks prior helping us put our favors and settings together. We picked out clutches for our bridesmaids over a period of months and bought ties for our groomsmen based on our colorful theme.
My favorite moment: Since it rained on our wedding day, there were some obstacles that held up our actual ceremony, which meant the longer I had to wait to see my groom… I finally let go of the day we had spent so much time planning because I just wanted to marry my love. I didn't care where it was, I just wanted it to happen. So when the doors opened to the church and I saw him standing in the front with a big smile, that was the moment I had been waiting for my entire life.
For other brides, remember the most important things, and let them have priority. The marriage is more important than the wedding, and "remembering the most important things" will help your decision making process. For instance Christian and I really wanted to be able to include as many of our family and friends as possible, so we decided on cheap and tasty food en masse instead of fancy catered sit down dinner. People loved the meal, and it ended up not only saving us a lot of money, but also caused zero stress if people didn't show up after RSVPing. Also let all of your wedding planning be a learning process for your marriage. For instance, it's a great time to practice organizing your finances, manage your time, combine your styles, in-law-involvement, priority setting and so many other things that will be critical for marriage. Don't just look at it as planning your perfect day, but as practice for your life together. Christian and I must have re-did our wedding budget three or four times in the six months we spent planning for our wedding. We didn't realize going into it how much certain things cost so we had to keep making adjustments. We learned right away that we thought about money differently, but through this process learned how to manage money together as a couple. Now when it comes to living life together we have been able to easily sit down together and quickly work through budget stuff. Lastly, keep perspective on what's most important. Don't let the wedding consume your life or relationship. Schedule time to do wedding planning, and don't let it bleed into the time you're not. We chose to spend time together planning at our favorite coffee shop every Monday night. Christian had no problem giving his full attention to our wedding every Monday night because he knew Friday night he had my full attention on non-wedding stuff. This perspective helped us so much on our actual wedding day because it poured rain! So much of the work we had done went to "waste" when our wedding got rained on, but our wedding was still a success because our REAL priorities still got accomplished (we still married each other and celebrated with our family and friends!)
Wedding Photography: We Heart Photography / Wedding Venue: Hidden Oaks in Rancho Cucamonga, California / Catering: Juan Pollo / Floral Design: Enchanting Gardens / Wedding Cake: Aunt Donna / Entertainment: Tiago Costa & Band / Hair: Brittany Marmolejo / Makeup: Mayela Tarango / Wedding Dress: Oleg Cassini / Sound: Josh Orton