Location
Categories
Designers
Vendors
Season
Style
Setting
Colors
Flowers
Brides like this seriously floor me.  You know the ones – those uber-crafty (+ uber-beautiful) lovelies who tackle every last detail of their wedding.  They are the kind of ladies who always, always know how to deliver the pretty… and as a DIY-challenged blogger myself, I can't help but be in awe of their serious talents and creativity.  Take for example this sweet Mrs., who crafted almost every beautiful detail you're about to see from Blush Wedding Photography, from the yummy cake (!) to the bridesmaids' bouquets to the gorgeous centerpieces.  See it all right here in the full gallery.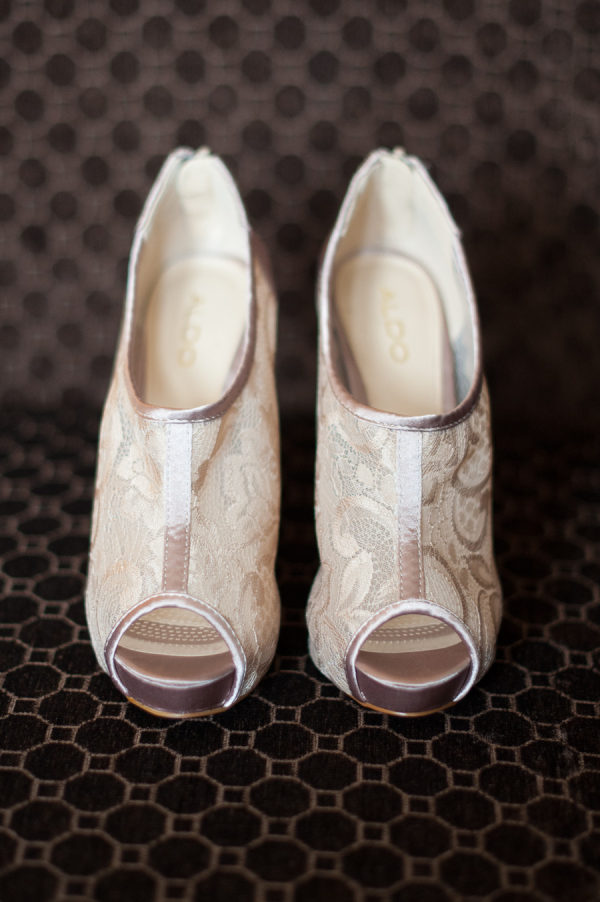 From Blush Wedding Photography… Erin had a vision for her Elegant vintage wedding and she achieved every bit of it with grace and style. Of any wedding I've ever been to, Erin had the most handmade and thoughtful touches even though she had to move her wedding up by 5 months at the last minute because her husband is in the military…I have no idea how she did it all. She created all the flower arrangements and bridesmaids bouquets, made the flower girls hats, help designed the logo and assembled all their invites. Her reception dress and veil was made from her mother's wedding dress. She sewed a 'something blue' heart inside her wedding dress and had a ladybug pin on it which is a symbol of her grandfather. She refinished the old vanity which was her signing table and made box for the ring barrier. On top of everything, she even made her own wedding cake! I loved the vintage mirrors used as signs and the dyed dollies for the 'guest book'. The champagne, ivory and brown colour palette with accents of silver was elegant and classic and look that will never go out of style.
Photography: Blush Wedding Photography | Wedding Dress: 2 in 1, Essence of Australia | Reception Dress: Custom Designed, Ellebay Bridal Boutique | Bridesmaids Dress: Roberto Rodriguez | Suite: Vera Wang | Earrings + Pendant: Carolee | Invitations: Co-designed with Bisi | Rings: Verragio + Creative Goldsmith | Decor: Sweet Beginnings  | Catering: Savory Chef  | Flowers: Kirby's Floral Inc Wholesale, Bride Designed | Bridal Bouquet: Absolutely Thorny Concepts and Design | Cherry Tree Rental: Green Scape Decor 
Blush Wedding Photography
is a member of our Little Black Book, Love what you see? Take a look at their portfolios. For more information on how Little Black Book Members are chosen
click here
.