Categories
Tags
Designers
Vendors
Season
Style
Setting
Colors
Flowers
They're a lot of reasons to love this shoot. From the black and gold color palette to every Art Deco detail, this styled beauty is vintage-chic to the absolute max.  But what I really, really love about all this glamorized gorgeousness are the vendors who made it happen – Oak & the Owl, Sealed with a Kiss Events and Aerialist Press, just to name a few. They pulled together to create a wedding lover's eye candy, and Josh Gruetzmacher, along with a troop of talented photographers, captured every last inch. Have a look in the full gallery and scroll on down for a DIY Sunburst Mirror tutorial that'll help you add some easy glam anywhere. Score!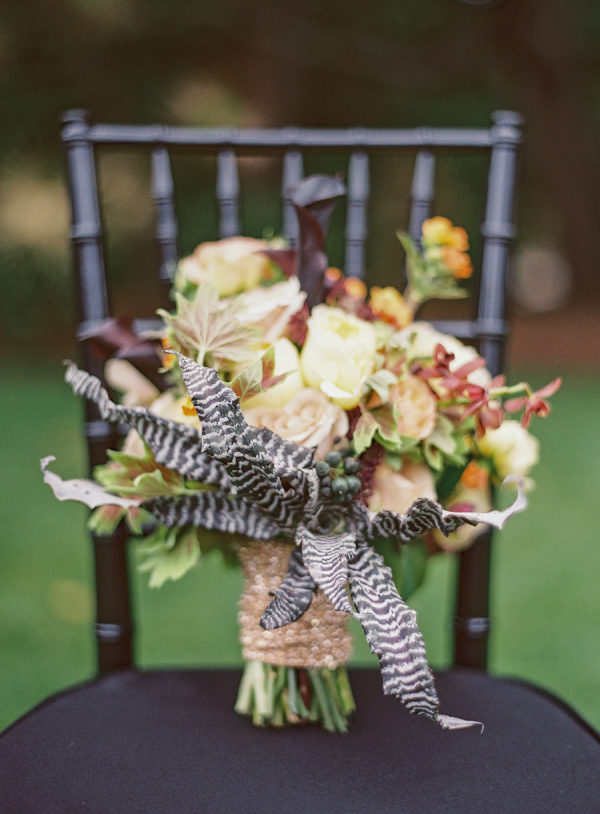 DIY Sunburst Mirror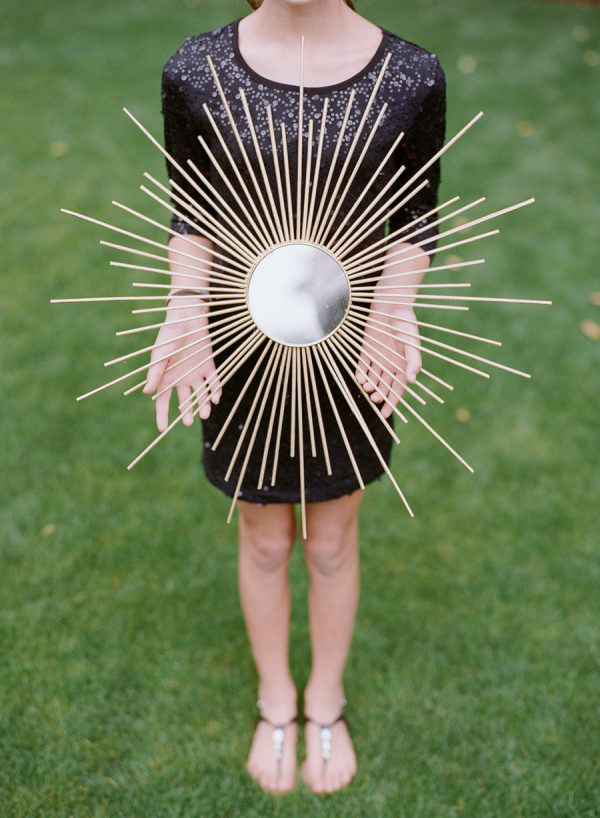 (1) 5" Round Mirror
(1) 5" Brass Ring
(1) Package of Large Bamboo Skewers
Hot Glue Gun
Cardboard
Spray Paint
Super Glue
Take your 5" round mirror and draw a template on a piece of thick cardboard. Cut the circle out. Draw a line down the center of the circle, then from the other end, draw another line. And so on until you've divided the circle into at least 16 sections.
Taking your skewers, divide them into 4 groups of 25. Take one group and cut them by 1", the next by 2", the next by 3". Leave one group of 25 at its original length.
Take the longest skewers and using the hot glue, place them equidistant around the circle. Start with 4, then take the next size and place them in the middle of the longest skewers. Do the same with the next size down, and keep going until the sunburst is complete.
After you're satisfied with the mirror, spray it with whatever spray paint you've chosen, making sure to coat the sides. Then paint the brass ring to match the skewers. Glue the brass ring to the top of the mirror with a thin coat of super glue, being careful to not get glue on the surface of the mirror. After is has dried, turn the mirror upside down and place a hanger on the back with the super glue. And you're done!
From Oak and the Owl… With The Great Gatsby movie having come out this spring it was a perfect time to create a shoot inspired by a favored design era. We took black and gold as a jumping off point and were inspired by sunbursts which were a common Deco design element. Using a stunning private estate, the ceremony site was placed in the amazing backyard full of old oak trees and giant palms. Over 20 sunburst mirrors were made for the ceremony back drop and to float in the pool. These mirrors were hung from the trees, at differing heights and depths, for a striking backdrop for the bride and groom to be married in front of. The reception table was also nestled into the palms for a wild, yet sophisticated, look. The table was covered in gorgeous black leather dot linen from La Tavola.
We used gold and white sunburst china with rose gold flatware and black glassware. The wild and lush florals incorporated blush pink, oxblood red, gold, orange, and black flowers. The bride was dressed in a beautiful Aidon Mattox gold gown from Bloomingdales and was accented with Deco inspired gold and black jewelry. The amazing cakes from Studio Cake worked perfectly with the sunburst theme and included strong black and gold geometric and gestural floral lines. And Aerialist Press created one of the most beautiful invitation suites ever. The lines mimicked the sunburst and the thick letterpress had to be felt. They were perfect. Photography for the shoot was provided by a group of film wedding photographers in the bay area who use the Contax 645 camera. The natural look of film lent itself well to the overall aesthetic of the shoot and provided a great opportunity for some of the area's talent to collaborate on this inspirational shoot.
While this is a vintage inspired design, if done right, vintage can be timeless and classic. One of the beauties of the twenties is that while it has a distinct look, there are many elements that will never feel dated. You take those elements, pair them with wild and lush florals, more modern linens and invitations, a modern styled cake with vintage touches, and you have an overall wedding that will look as fresh in thirty years as it does now.
Contributing Photographers: Josh Gruetzmacher, Coco Tran, Hannah Suh, Em the Gem, Justin Parker, Michele Beckwith, Spencer Sanchez | Shoot Concept + Styling + Floral Design: Oak & the Owl | Wardrobe Styling + Coordination: Sealed with a Kiss Events | Stationery: Aerialist Press | Calligraphy: Michele Papineau | Tabletop Rentals + Chairs: Hartmann Studios | Linens: La Tavola Fine Linen Rental | Cake: Studio Cake | Gold Dress: Aidan Mattox Gown – Illusion Tulle via Bloomingdales | Hair Accessories + Belts: Amanda Judge | Earrings: Waffles and Honey | Hair + Makeup: Kristen and Gigi
Josh Gruetzmacher Photography
,
Aerialist Press
and
em the gem
are members of our Little Black Book, Love what you see? Take a look at their portfolios. For more information on how Little Black Book Members are chosen
click here
.
Josh Gruetzmacher Photography
VIEW PORTFOLIO
The Aerialist Press
VIEW PORTFOLIO
em the gem
VIEW PORTFOLIO