Location
Designers
Vendors
Venues
Style
Setting
Colors
This wedding has it all. Gorgeous, cultural tradition mixed with stylish, modern touches. It's vibrant color palettes and then clean loft spaces. It's the prettiest of juxtapositions brought to life through the talented planning of Kelsey Sheofsky from Alison Events, all centering around two families bringing two lovebirds together. And we get to devour every last bit of this gorgeous day thanks to the stunning images from Jesse Leake Photography - which you can do right here.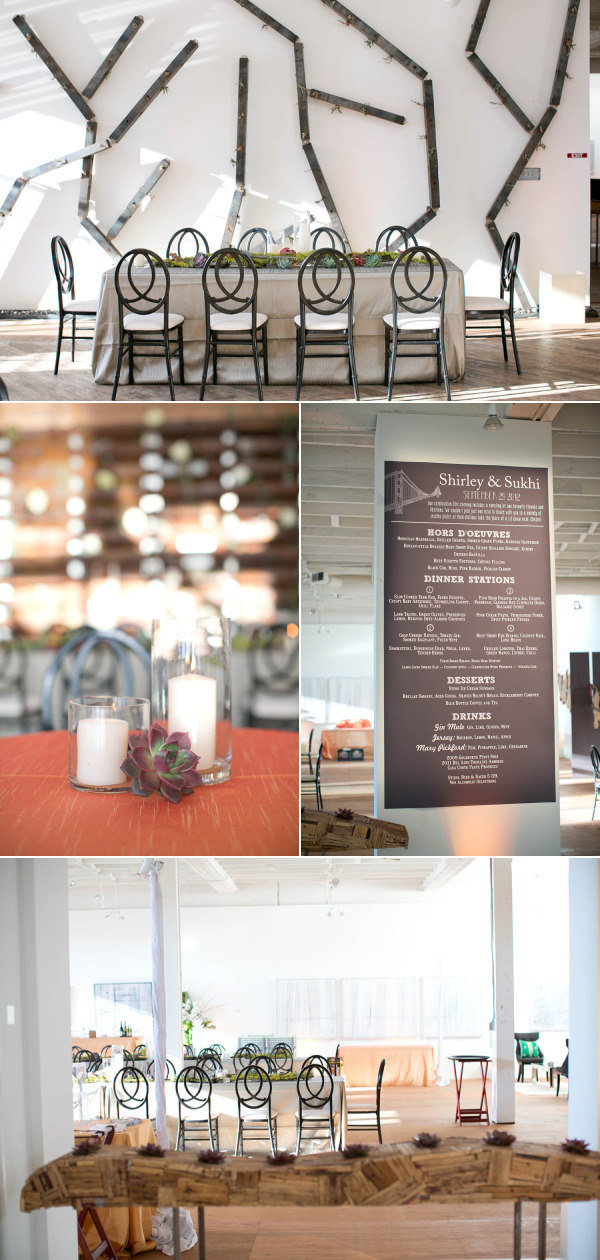 From the Bride… Our wedding day included a beautiful, traditional Sikh wedding ceremony and the party of our dreams in our hometown, San Francisco. The festivities begin first thing in the morning, the first ceremonies are actually held as the bride and groom are getting ready! My uncle put on my bridal churas, the sparkling bangles that Indian brides wear for up to a year after they get married so community members recognize them as newlywed. My uncle putting them on was a sign he approved of the marriage and was the first of many special moments throughout the day. At the same time, the groom had his Serra ceremony, where his sisters place a mask over his face that is not removed until he goes into the ceremony hall and is about to see the bride! Everyone arrived at the Jewish Community Center by bus, and the groom's Baraat began. The Baraat is a festive parade of the entire groom's party. The bride's side was waiting inside to greet the groom's side as they arrived. The dancing in the streets was accompanied by a Dhol Player, a traditional Indian drummer. Even though it was only 9am, the party had already begun!
Next, our families greeted one another in a ceremony called the Milni. Then it was time for the ceremony and everyone entered the hall which we had decorated as a traditional Sikh Gurdwara (temple). The room was full of color, spirituality and Kirtan, the live music played by the ceremony officiants. It was truly was one of the most beautiful ceremonies many of our family and friends had ever been a part of. After we were married, we served Langar, a light vegetarian lunch, to our guests before they headed out for some rest before the reception. Most of our friends and family dressed up in traditional Indian outfits and a lot of the men tied turbans, which are worn as a sign of respect to the Guru. That alone meant the world to us both!
We wanted our reception to be a party, and since the wedding ceremony had already taken place in the morning, we didn't feel obliged to stick to too many wedding traditions throughout the evening. Kelsey at Shelter Co helped us find Laurent Gallery, a gem of an art gallery / event space in the Mission district. Art by the owner is spread throughout to set the ambiance, including a living wall of succulents, large sculptures and paintings.
To kick off the dance party, our friend Vicki Virk and her dance crew performed some "bollywood" inspired pieces and at the end of the performance grabbed guests to start getting down! Some people took a break from dancing to grab an ice cream sundae that was being made on site with liquid nitrogen, but others skipped dessert all together and kept on dancing!
Special thanks to our families for helping us through every single detail and supporting us with your undivided love day in and day out. And to Kelsey Sheofsky, our planner who was a true rock star to work with. She saved the day throughout the planning process more than once and we couldn't have pulled off half of what we did without her!
Wedding Photography: Jesse Leake Photography | Ceremony Venue: San Francisco Jewish Community Center in San Francisco, California | Reception Venue: Laurent Studio in San Francisco, California | Wedding Planner: Kelsey Sheofsky from Alison Events | Floral Design: Kamran from San Francisco Florist | Ceremony Catering: India Chaat & Sweets | Reception Catering: Componere Fine Catering | Breakfast Boxes: Baker and Banker Bakery | Reception Bar: Bar Agricole | Reception DJ: Justin Karcich | Reception Dancers: Vicki Virk from Dohlrhythms | Linens: La Tavola | Menu Sign: Olive-Route Design & Letterpress | Wedding Invitations: Jenny Whitlinger from Wendu Ink | Invitation Calligraphy: Tim Gately | Bride's Ceremony Dress: Prashe | Bride's Reception Dress: Jenny Packham Ready to Wear via Yvonne Hughes at Wilkes Bashford | Groom's Ceremony Kurta: Sari Palace | Hair: Jessika Robinson from Cinta Salon | Makeup: Sarah Taylor
Jesse Leake Photography
is a member of our Little Black Book, Love what you see? Take a look at their portfolios. For more information on how Little Black Book Members are chosen
click here
.