Location
Tags
Designers
Vendors
Venues
Style
Setting
Colors
If there was ever a wedding that reminded me of a fairytale, this wedding from Anna Roussos would be it. Every image is a dream, sprinkled with the perfect amount of elegance. Not to mention this Bride's stunning Vera Wang veil that could possibly be my favorite veil I've ever laid eyes on. The result? A breathtaking full gallery that almost, almost looks to pretty to be real – oh but it is. See it all here.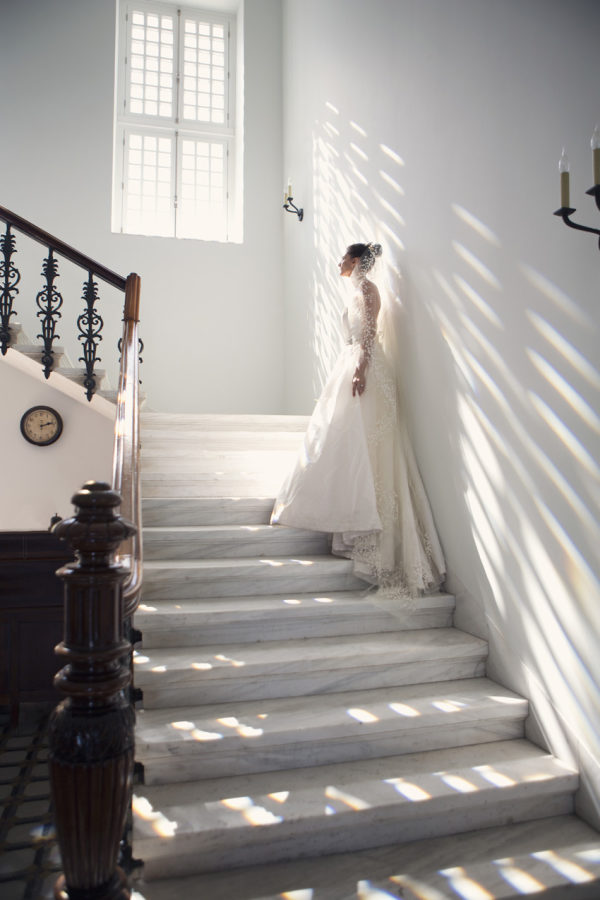 From the Bride… I first visited Spetses when I was a child, and it is an island I have returned to time and time again. For our wedding venue, I wanted my future husband, our families and friends to discover the island I had been captivated by for so long, and we were overjoyed when so many loved ones accepted our invitation to escape the cold, rainy Northwest for a Greek island getaway!
The hotel that provided the home base for our wedding week preparations was the elegant Poseidonion hotel, built in 1914. The church where we were married was over two hundred years old, with ornate, gilded icons, a bell tower made of Tinos marble, and an amazing pebble mosaic courtyard. Its vantage point above the water, with a view of the island's traditional whitewashed seaside mansions, created an amazing storybook backdrop for the ceremony.
Approaching the church on a horsedrawn carriage through a path scented with the island's plentiful jasmine, led by traditional island musicians, I remember rounding the bend and seeing, one at a time, all the people in my life that have meant the most to me…and when the carriage made its final circle in the courtyard, the last person I saw was the groom, seeing me for the first time as well. We will never forget that breathtaking moment. It was the culmination, not just of months of preparation, but the culmination of all of our lifelong hopes and dreams, and the collective hopes and dreams of everyone who had first seen us fall in love and traveled so far to witness our marriage.
The ceremony was a traditional Greek ceremony in every respect, with traditional stephana wedding crowns and very enthusiastic throwing of rice! After the ceremony our guests traveled via water taxi to our incredible reception venue, a two story taverna, surrounded with bouganvillia, pine and palm trees, with a gorgeous view extending across the Saronic Gulf to the Peloponnese coast. The upper level was perfect for our sunset cocktail reception, and, underneath a full moon, to watch the spectacular fireworks that my husband and I planned as a surprise to our guests! Looking around our reception, seeing the intersection of old friends and new, American and Greek, laughing, celebrating, and dancing the kalamatiano, was simply extraordinary. But my favorite part was riding through the streets of town on the carriage with my new husband, as the locals, strolling the streets, swimming in the water, going about their day, saw us, waved and shouted: "na ziesete!" ("long life to you!").
From Anna Roussos… It was a unique experience for me and Xavier as Spetses is a very refined island, with beautiful neo-classical architecture, with classical villas. The sceneries were beautiful, the couple charming, and the guests either from the greek or american families full of life. The party at the venue incorporated many styles, as well as sirtaki dances, and it was fun to see everybody having a blast at their try to be zorbas, the legendary greek dancer.  It was a very elegant and romantic wedding full of joy!
Wedding Photography: Anna Roussos / Ceremony Location: Agios Nikolaos Church in Dapia, Greece / Reception Location: To Nero Tis Agapis in Kounoupitsa, Greece / Event Planning: Lila Konstantinidis from Weddings by Heliotopos / Cinematography: Xavier Roussos / Floral Design: Pavlos Flower Design / Invitations: The Paper Source / Wedding Dress: Amsale / Bride's Shoes: Nina, customized by Bride / Veil: Vera Wang / Bridesmaids Dresses: Amsale / Makeup: Bianca Treveza
Amsale is a member of our Look Book. For more information on how members are chosen, click here.
Anna Roussos
is a member of our Little Black Book, Love what you see? Take a look at their portfolios. For more information on how Little Black Book Members are chosen
click here
.