Location
Categories
Tags
Designers
Vendors
Style
Colors
This amazing Tybee Island fete was planned by the bride in just three short months! And for all you planning a wedding, you now that is no easy task! She quickly chose her color scheme of blue and ivory after finding tons of vintage blue mason jars that would soon house tea lights and set the stage for a romantic beach inspired soiree. Tea Olive Photography captured all the pretty, handmade details and there's tons more gorgeousness happening right here in the full gallery!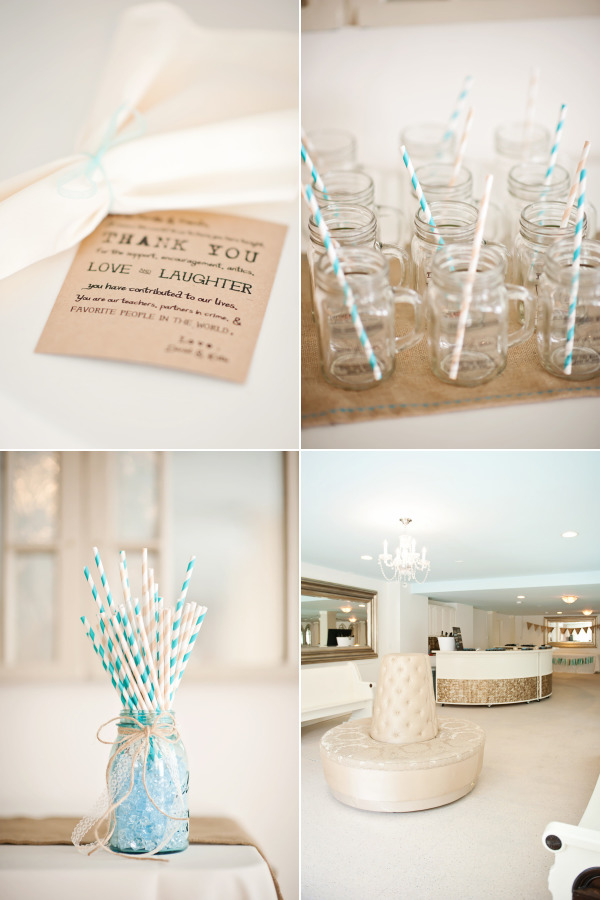 Click here for the FULL wedding!
From the Bride… Ever since I was a little girl, my mom and I have been going to craft shows in the Southeast. The fall was always a time full of weekend-long festivals. We loved to browse and look at all the creative ideas, but in the end, we would never buy a thing because we would always say, "We can make that." Our bravado was put to the test this past summer, after my fiancé and I decided our school schedules were going to be too hectic in the fall, so we needed to move our wedding date up from October to July. This meant planning an entire wedding from April to July 19th. Daniel and I both love the beach, so we decided to get married back at Tybee Island, Georgia, where we first got engaged one year before. I also love the South, so my mother and I set our sights on finding that perfect blend of Southern and Sun. To start our southern style-wedding project, we went on the hunt for blue vintage mason jars to serve as our candle holders/centerpieces. Finding these proved to be the deciding factor in choosing our wedding colors, and blue and ivory became our official palette.
Since Daniel is such a huge Georgia Bulldog fan, we decided to use this as the theme of the groom's cake. I made small flags out of Georgia-printed material for the backdrop and a small "G" emblem from a sports shop for the top. For the last cake, mom wanted to add initials, so she painted the wooden initials, added rhinestones and glued Popsicle sticks to the back to stick them in the cake. On this same table, we decided to do a candy buffet in blue and ivory colors and bought tags to identify the types of candy. From the same vendor, I received a candy buffet sign and a sign for my wishing tree. I thought it was a good idea to get wishes and advice from our guests at the wedding so we made a wishing tree. We took a vase and added LED lighted branches from Hobby Lobby and used tea-stained tags from Etsy for people to write down their words of wisdom. We added blue ribbons to hang the tags to the tree. The centerpieces for the tables were a collection of things that I liked.  We found beautiful, large iron lanterns that held three tea-light candles, and we used mirrors in the bottom to reflect the light. We sat the lanterns on top of Spanish moss, which reminded me of the trees in Savannah. We added starfish on top of the moss to bring in the beach feel and added two mason jars on to each side that had a tiny bouquet of baby's breath. I gave Daniel the job of hanging café bulbs that I found at Target to give the reception a warm feel. The last touch to the tables was a thank you written on cardstock from a vendor on Etsy that expressed gratitude to our guests for making the journey to our wedding. We are proud to say, "we did it ourselves."
Wedding Photography: Tea Olive Photography / Wedding Venue: Tybee Island Wedding Chapel in Tybee Island, Georgia / Floral Design: Kato Floral Designs / Event Coordination: Ray Anaya of Tybee Island Wedding Chapel / Event Design: Katie + Sherry Hill (The Bride + Her Mother) / Catering: Barnes Catering / Invitations: Wide Eyes Design / Wedding Cake: Boll Weevil Cafe and Sweetery / Burlap: Flowers by Viv in Jasper, Georgia / Paper Wisteria + Decor: DIY / Wedding Dress: Tara Keely via La'ren Belle Bridal Boutique / Bride's Ceremony Shoes: Michael Kors / Bride's Reception Shoes: TOMS / Hair + Makeup: Beyond Beautiful by Heather / Bride's Necklace: Brass Boheme / Groom's Suit: J.Crew "Ludlow" in Wheat
J.Crew is a member of our Look Book. For more information on how members are chosen, click here.
Tybee Island Wedding Chapel & Grand Ballroom
and
JLM Couture, Inc
are members of our Little Black Book, Love what you see? Take a look at their portfolios. For more information on how Little Black Book Members are chosen
click here
.
Tybee Island Wedding Chapel and Special Events
VIEW PORTFOLIO
JLM Couture Wedding Gown Boutique
VIEW PORTFOLIO