Location
Categories
Tags
Designers
Vendors
Style
Colors
I love this couple's story. And rather than try and tell it myself, I'll tell you it's a description you must read. Because even with all of the sweet-as-they-come details placed perfectly by Lavender Joy Weddings in this charming affair, they just get sweeter when you hear about all the love behind them. Held at the couple's new home, in their new yard, to celebrate their new life – it's a wedding that takes personal to an entirely new level, and a level I am totally smitten with. Shaun Menary Photography was behind the lens to capture it all, so we have the pleasure of a full gallery that is sweet and then some.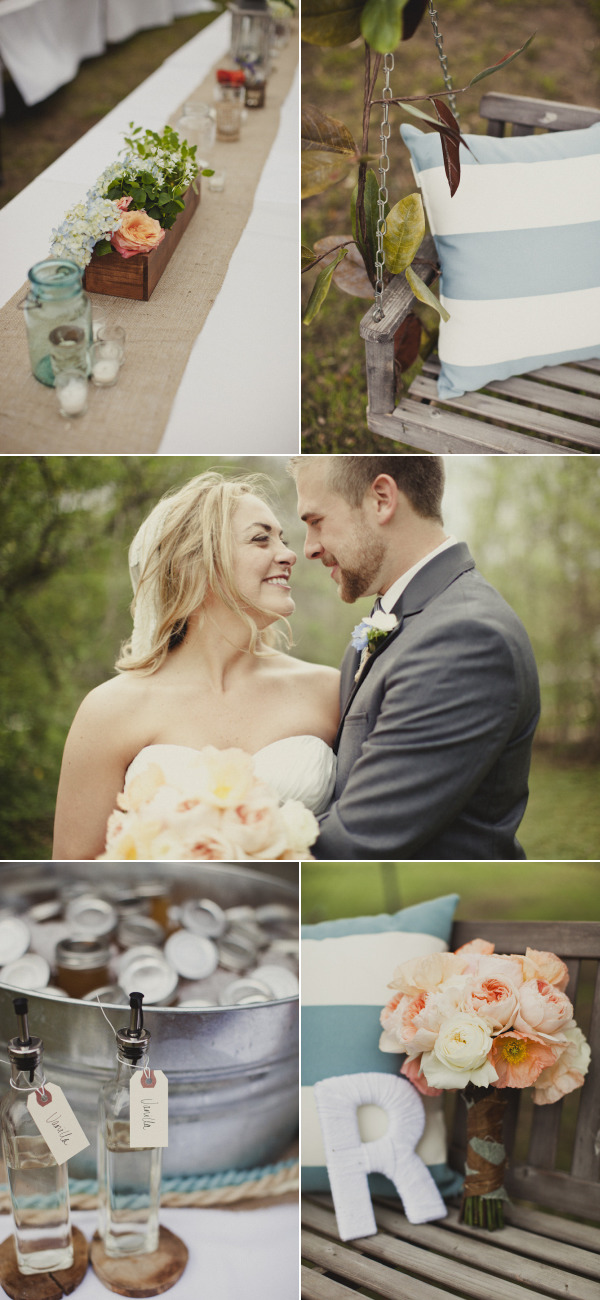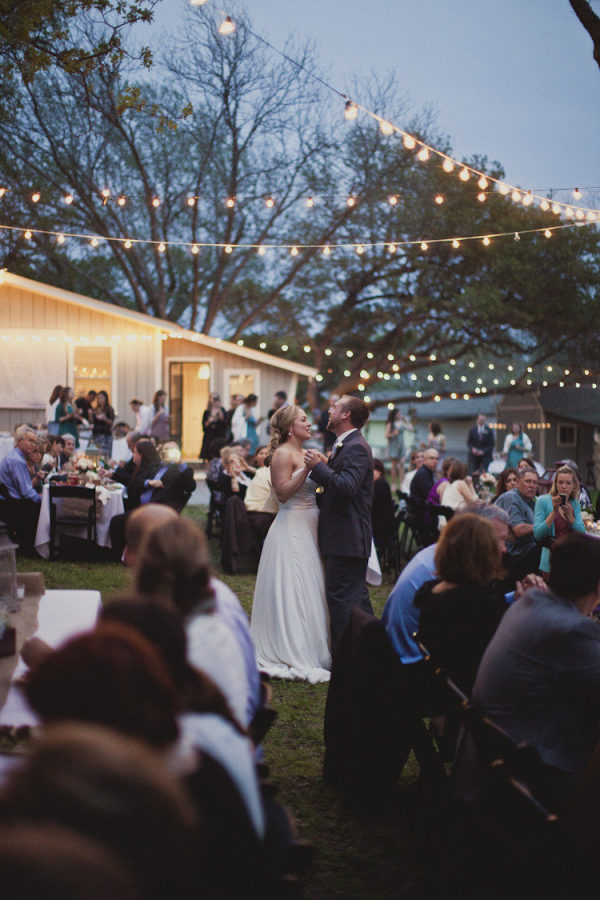 From the Bride… Kyle had been looking for his next home because the end his lease was coming up. We both knew that wherever he ended up in was where I would end up with him eventually. We started looking at apartments, and then he told me about this super-ugly, tiny house near the lake. He led with, "I think you will hate this house…" He showed me a picture of it, and he was right — it was super-ugly! But I knew the talent that he had to restore and rebuild. Within a week, we had put an offer on this tiny brown house sitting on almost an acre of land. The next week we went ring shopping. A few weeks after that it was my birthday, and he had me meet him at the house that evening. As I drove up I saw all kinds of lights hanging in the trees in our huge backyard. He met me at the gate and led me into the backyard. When I opened my eyes he was down on one knee in front of our favorite tree in the yard. He had carved "Will you marry me" in the tree! He had also brought over the porch swing from my parent's front porch, where he first told me he loved me. I could barely believe what I was seeing. I immediately said yes!
The overall feeling Kyle and I wanted for our wedding was welcoming and personal. We wanted people to feel at home in the house we had been working on for months that we were excited to move into together after the honeymoon. We wanted to honor our family and the heritage we have come from. We made effort to pay special attention to ways we could honor and highlight our grandparents and parents. A couple of my favorite ways we did this was to use the pews from my grandmother's church, as well as Kyle's grandfather's Bible. I had remnants of fabric from both grandmother's and my mother's wedding dresses on my bouquet. We had our dads' favorite drinks, and Kyle's grandmother made all of the groom's desserts: banana pudding, pecan pie and strawberry cake. We utilized as many flowers as we could that could be replanted in our yard after the wedding. The ring bearer's pillow was used in my parents wedding 35 years ago. The handkerchiefs belonged to my grandmother, and the "Six Chicks" — college friends — each carry them in their weddings. I ended up choosing a paint swatch to guide the bridesmaids in finding their own dress because I couldn't decide on one specific color — I liked a range of them! (I even ended up painting our linen closet one of the colors of the paint colors in the swatch I gave the girls.)
Wedding Photography: Shaun Menary Photography / Wedding Venue: The Home of the Bride & Groom in Hickory Creek, Texas / Event Planning: Lavender Joy Weddings / Flowers: DIY by the Mother of the Bride with Flowers from FiftyFlowers / Wedding Invitations: DIY by the Bride / Rentals: TLC Event Rentals / Wedding Dress: Justin Alexander / Bride's Shoes: TOMS / Groom's Tuxedo: Al's Formal Wear / Bridesmaid Dresses: J.Crew, Target, David's Bridal + REI / Bridesmaid Robes: Handmade with Amy Butler Fabric
J.Crew is a member of our Look Book. For more information on how members are chosen, click here.