Location
Categories
Tags
Designers
Vendors
Style
Colors
When it comes to a romantic wedding style, there are so many, many forms but the main stay is an air of warm and fuzzy, candlelit, nuptial goodness. The kind of wedding that makes you hug your honey a little tighter. Now enter this Charlotte beauty, full of romance of the Southern alfresco kind. It definitely has warm and fuzzy down pat as well as loads of charm with the help of pretty florals by Nectar and enough gorgeous snapshots by Alively Photography to keep you busy for a whole afternoon. You can do so right here in the full gallery as well as with the film by Samuel Gatlyn below. Happy romancing.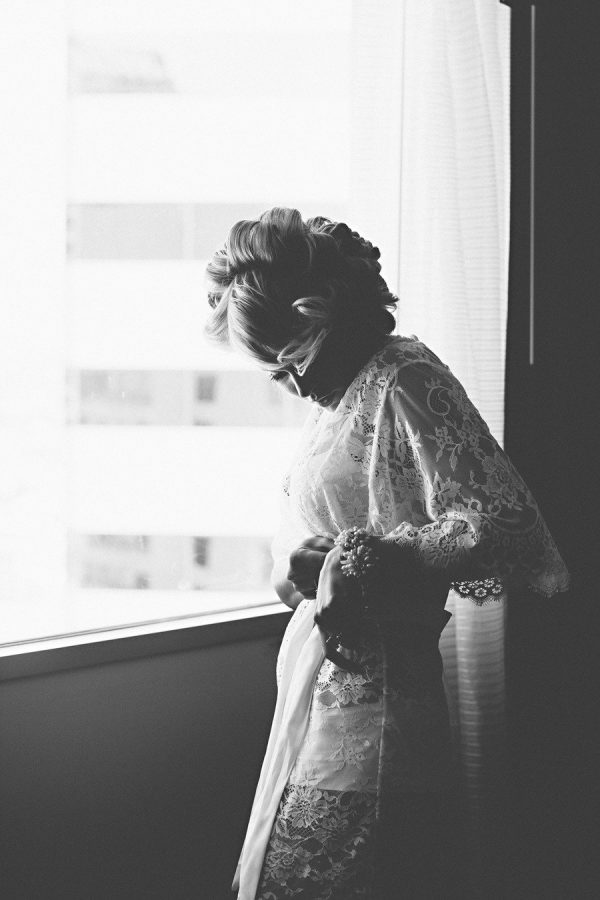 From the Bride… The inspiration for our wedding all started the night Taylor proposed to me. It had been a year to the date that he moved from Myrtle Beach to Charlotte to be with me, and we were out celebrating. He took me to a quaint, local bed and breakfast, and standing right in front of this arbor in the back yard, he dropped to one knee. He had hired a photographer to capture our beautiful moment, and nine months later we stood in that exact spot to become husband and wife. With that said, this old southern home had but only one obvious theme: vintage. Starting with a search for the perfect dress, I knew this was gonna be a lot of work but an amazing adventure. I saw the most fabulous Lazaro gown online, and right then, I called my mom and told her I had found "the dress." With the hard part behind me, the rest was easy — time consuming, but I had a vision. My husband and I are both detail-oriented people, so we wanted to add as many personal touches as we could. We, with with the help of family and friends, assembled all 20 table runners from vintage doilies, rolled 150 hankies into roses for favors and folded dozens of tissue poms and rosettes for our photo booth backdrop. All the mason jars used were hand-decorated with vintage lace and ribbon, the table numbers were stained and drilled, the fabric strip cake backdrop had to be be hand-dyed and torn, and hundreds of hot glue sticks were used to hold all the signs together. Even down to the veil I wore, it was a DIY kinda wedding. I was sewing that together the morning of my big day. You get the idea. Whew! When the wedding day finally arrived, the weather couldn't have been more pleasant. We married facing due west, and the lighting coming through the trees at sunset was like a dream. My favorite moment of our day had to be our exchange of handwritten vows. The sincerity in his voice and the look in his eyes did me in! Surrounded by our closest family and friends and our A-list team of vendors, we couldn't have been more blessed.
If you're a bride planning or just a girl dreaming of her big day, please remember first to slow down and enjoy every moment. Also, I would sit down with your fiancé and discuss just a few major factors of the wedding, make those a priority in your budget, and let the rest fall together in time. Lastly, do all you can yourself and recruit loved ones to help because one day you'll look back on it all and see all the personal touches that make it mean so much more. Happy planning! :)
Wedding Photography: Alively Photography / Wedding Venue: The VanLandingham Estate in Charlotte, North Carolina / Wedding Planning + Table & Arbor Rentals: Ginger Hussey of Hey Love! Events / Floral Design: Nectar / Wedding Cinematography: Samuel Gatlyn / Catering: The VanLandingham Estate + Enso Asian Bistro and Sushi Bar / Cheesecake: Gail Buff of Cheesecake Etc. / Ceremony Music: Molly Williams / Reception Music: DJ TMAQ / Photo Booth: Michael Newton / Table Runners, Hankie Roses, Photo Booth Backdrop, Mason Jar Decor, Table Numbers + Wedding Cake Backdrop: DIY / Wedding Dress: Lazaro / Bride's Ceremony Shoes: Valentino / Bride's Veil: DIY / Bride's Reception Dress: Allure Bridals / Bride's Reception Shoes: Joan & David + Converse / Bridesmaids' Dresses: Melissa Sweet / Getting Ready Lace Robe: girlwithaseriousdream
JLM Couture, Inc
is a member of our Little Black Book, Love what you see? Take a look at their portfolios. For more information on how Little Black Book Members are chosen
click here
.