Location
Categories
Tags
Vendors
Style
Setting
Colors
Catherine Hall knows how to take an amazing photograph. Whether the subject be the cutest little tutu wearing flower girl or a row of blooming centerpieces by Valley Flora, we can't resist spending a little extra timing poring over all the details of her work. And we haven't even scratched the surface. Underneath all that Sonoma beauty is layers upon layers of Vera Wang worn by a Bride who was born to say "I Do" in that number. Peruse it all right here.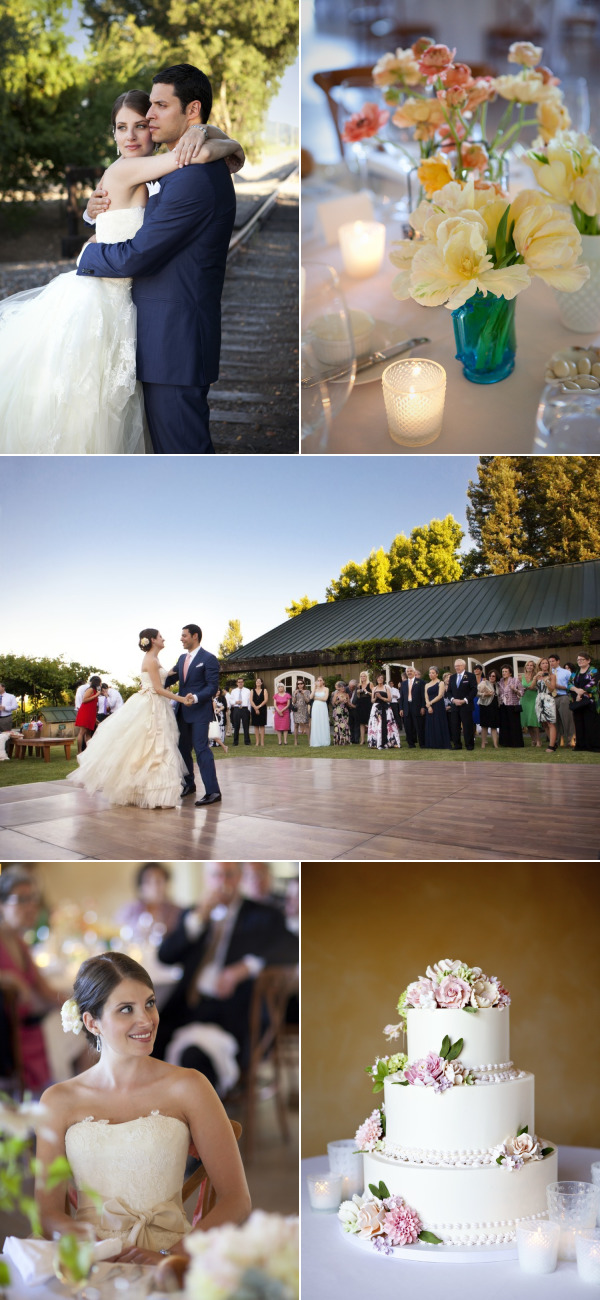 From Catherine Hall Studios… Family and friends traveled to Sonoma County from across the country and abroad to celebrate Devorah and Carlo's wedding. Tradition was obviously an important element of the event — you could feel the warmth of family connections that filled the Trentadue Winery over the Fourth of July weekend. The beaming bride had the honor of wearing an heirloom veil that has been passed through generations of Carlo's family, worn by over 30 proud women before her. In the Pittsburgh family's tradition, thousands of homemade cookies were available for the guests, from a special recipe of Devorah's late grandmother — all hand-made by her aunt for the occasion! The highlight of the night was when guests danced the traditional Hora, hoisting the couple in the air in chairs in celebration. The joy and the fun of the day could not have been better displayed than through Devorah's radiant smile and blue eyes. Thanks to the tremendous efforts of wedding coordinator Heather Holliday, I was able to capture the stylish lovebirds against the lush, antique beauty of the winery, adding to an already-poignant narrative filled with exquisite details and the heartwarming tradition of Devorah and Carlo's families.
From the Bride… Carlo and I met five years ago in business school at MIT Sloan. My first impression was that Carlo was a typical New York finance guy, but I found out I was wrong as soon as we started talking. We immediately hit it off after Carlo won me over with his uncanny ability to solve puzzles during a team-building activity and with his declaration that the Grateful Dead was his favorite band. He quickly became my best friend at school, and ultimately, my best friend in the world… One Memorial Day weekend, as I was sleepily drinking my coffee and reading a magazine in my pajamas, Carlo asked me to come into our home office to look at something on the computer, a common request to which I almost responded that I was busy. Luckily, I got up off the couch and went into the room, only to find him on one knee with the ring of my dreams and an incredibly sweet proposal. After I said a very enthusiastic yes, we celebrated with an entire day of special meals and activities, inspired by our past and current lives together.
Wedding Photography: Catherine Hall Studios / Ceremony: St. Eugene's Cathedral in Santa Rosa, California / Reception: Trentadue Winery in Geyerserville, California / Floral Design: Polly of Valley Flora / Wedding Coordination: Heather Holliday of Holliday Weddings / Invitations: Hello!Lucky / Catering: Susan Da Ponte of Elaine Bell Catering / Beverage Catering: Andrew of Bartenders Unlimited / Bakery: Angela of Perfect Endings / Ceremony Music: Doug Harmon + Dana Couey / Guitar: Jay Alvarez / Band: Pop Rocks / Rentals: Tiffany Gage of Wine Country Party & Events / Transportation: Kendall Petersen of Pure Luxury / Bride's Veil: A Family Heirloom / Beauty: Betten Chaston / Bridal Preparations Venue: Kenwood Inn & Spa
Catherine Hall Studios
is a member of our Little Black Book, Love what you see? Take a look at their portfolios. For more information on how Little Black Book Members are chosen
click here
.