Blog
Location
Categories
Tags
Vendors
Season
Style
Setting
Colors
After moving to Seattle and getting engaged in their PJ's (seriously, how cute is that) this couple knew their wedding had to be back home on an idyllic Pennsylvania farm. They just couldn't say no to the perfect backdrop for wildflowers, homemade pies, and the most amazing, pretty, rustic wedding. Planning a wedding from the other side of the country was a piece of that homemade Red Raspberry Crumble thanks to JPC Event Group, who not only coordinated the wedding, but made those delish desserts. With Carden's Photography leading the way, lets head to the gallery for even more!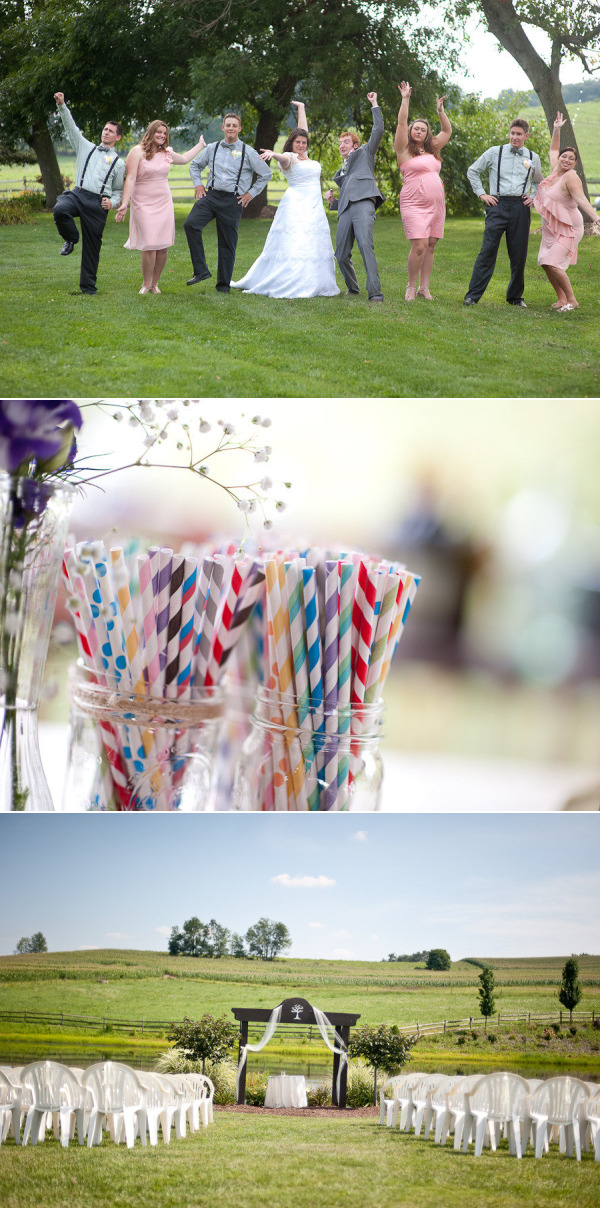 Click here to see the full image gallery!
Ben and I met at Penn State, and after graduation we decided we were meant for much more than best friends. After a successful move to Seattle for work, and a few years more of bliss we got engaged over homemade breakfast in our pajamas. Since almost all of our family still remained in the Pittsburgh area, it was a no brainer to have the wedding back home and in a place that reminded me of the idyllic Pennsylvania farm. After giving my mom and sister a list of about 9 venues to scout out, and a lot of Skype sessions and phone calls, I booked Armstrong Farms over the phone and faxed our confirmation in. Our holiday vacation was filled with vendor meetings and was also the first time we saw our venue in person. It was snowcovered and freezing, and was still a magical setting!  I then set out to design a casual backyard wedding. I put a lot of trust in my vendors, especially JPC Event Group for bringing the reception to life. I sent hundreds of emails to my vendors and they were all responsive and answered all our questions – which took a lot of weight and responsibility off my shoulders. Being so far away (three time zones!) I had to pick and choose which details I was going to obsess about.  Everyone helped gather vases back home, while Ben and I cut ribbon and made bunting flags and the boutonnieres.   It was amazing and breathtaking to see the day come together like it was designed in my head. We still remark, almost a year later, how wonderful that day was. I feel truly blessed to have had such a supportive network of family, friends, and vendors willing to help in any way possible. Photography: Carden's Photography / Venue: Armstrong Farms Bed and Breakfast / Coordination: Richard Wimer of JPC Event Group / Catering and Bar Services: JPC Event Group / Rustic Pies: JPC Event Group / Linens: Chaircovers and Linens / Table decor, florals, ribbon chair, and photo booth: DIY by Bride / Fabric: Whimsie Dots / You-Me Sign: Constellation & Co. / Props and signs: Little Retreats / Nerdy flash cards: Tiffany Ard / Name card design: Wedding Chicks
JPC Event Group
is a member of our Little Black Book, Love what you see? Take a look at their portfolios.
For more information on how Little Black Book Members are chosen click here.