Location
Categories
Tags
Designers
Vendors
Style
Setting
Colors
Theme weddings can walk a thin line, but when they are on the right side of that line, the FAB side of that line, they pretty much blow my socks off any day of the week. Outstanding Occasions did it. They helped this couple create the most amazing, most beautiful aviation wedding I've. Ever. Seen. Ever. Stephanie Fay Photography shared her ticket to this ride with us, and I'm guessing a few of you just can't wait to jet off into the gallery!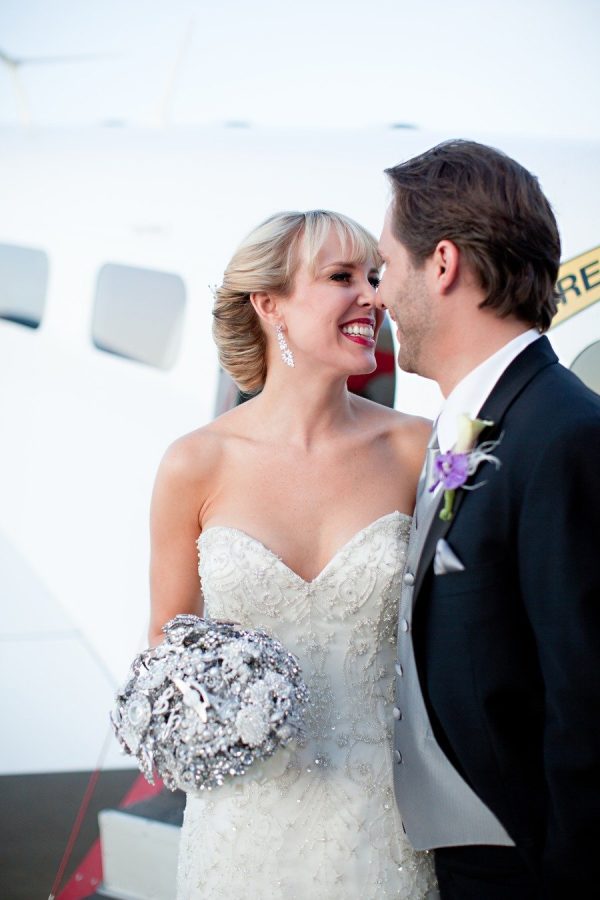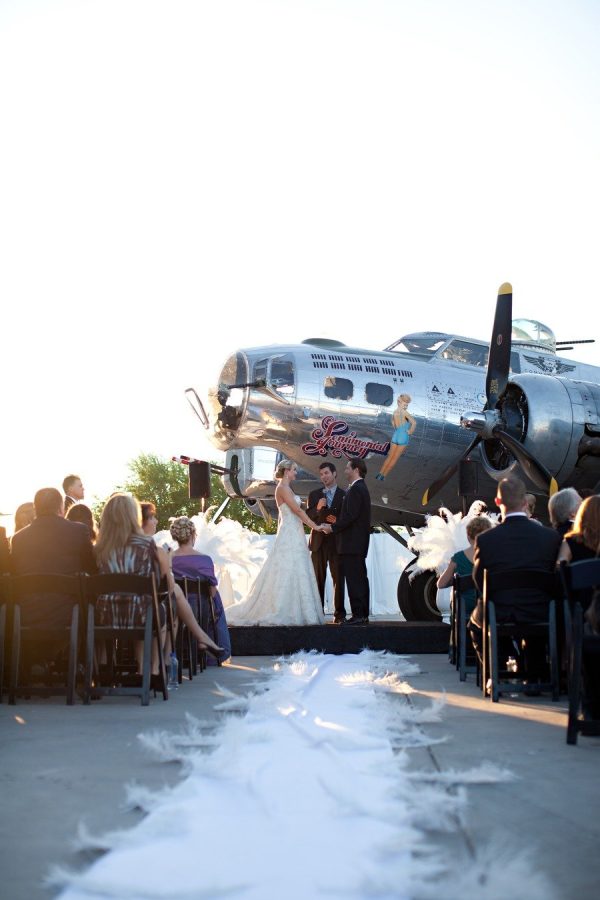 Click here to see the full image gallery!
From Outstanding Occasions … Annee + Scott were married under one of the few B17 bomber aircrafts left in the world. As their guests enjoyed themselves at the reception they were surrounded by beautiful vintage war planes. It was incredible! Annee wanted to incorporate her families love for airplanes so having a vintage theme and a ceremony under one of the rarest planes was so fitting.
There were so many sweet details at this wedding. From the little flight pins guests were given to the vendors wearing flight outfits, everything was extremely impeccable!
Photography: Stephanie Fay Photography / Event Design: Outstanding Occasions / Floral Design: Flora Bella / Venue: Mesa Falcon Field Air Park / Cinematography: Vongspoth Studios / Entertainment: The Big Band / Dress 1: Allure Bridal, purchased at Lilliam Lottie Couture / Dress 2: Sue Wong, Purchased at Nordstrom / Shoes: Glint Devyn, purchased at Nordstrom / Hair piece: Jessica McClintock  / Jewelry: Mariel earrings / Makeup and hair: Zethina Haehl / Brooch Bouquet: Fantasy Floral Design by Amanda Heer / Stationery: idieh design
Outstanding Occasions
is a member of our Little Black Book, Love what you see? Take a look at their portfolios. For more information on how Little Black Book Members are chosen
click here
.