Location
Categories
Tags
Vendors
Setting
Colors
We loved this morning's Colorado wedding so much that we've decided to stick with the Rocky Mountain State for the day, and visit Westminster for a very different, just as gorgeous wedding. This time Jenna Walker Photographers has invited us along to her view of this absolutely FAB Hindu wedding. The Celebration Studio perfected this amazing soiree by taking inspiration from the bride's amazing sarees. I don't know about you, but I'm totally floored. And I have a feeling you will be too, as soon as you peek at the gallery!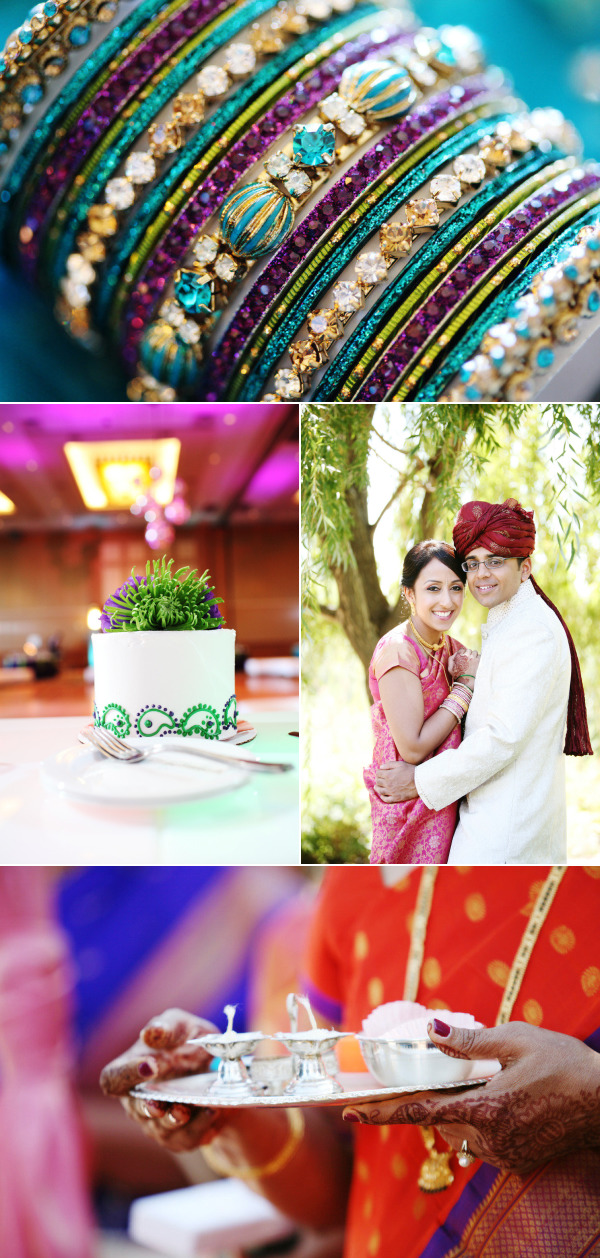 Click here for the FULL gallery!
My husband and I are both Indian but were raised in the United States. For our big day we wanted to honor the best of both worlds and infuse a modern touch to the beautiful, time-honored traditions of Hindu weddings. Our wedding was a 4-day affair starting with a Mehndhi (henna ceremony) hosted in my parents' backyard. We decorated the lawn with yellow and red lanterns and set up a henna station for the guests.
The party continued the next night with the Sangeet (song and dance party) where we were treated to a mesmerizing classical Indian music performance by our dearest family friends. Then, my brothers and sisters-in-law surprised us with an amazing guitar-accompanied medley of our favorite songs. They were then joined by the rest of our extended family and broke out into a HUGE Bollywood Flash Mob! It was just the beginning to an amazing night of celebration. The decorations for the night were inspired by a cool night in Morocco. We had shades of magenta and navy blue draping the room with fresh white ottomans and lounge chairs dotting the space. We set up lounge areas in the outdoor courtyard for people to take a break from dancing. My husband and I are big foodies so we chose an eclectic menu of Indian, Chinese and Mediterranean food.
We wanted our wedding ceremony to celebrate the spirit of Colorado for all of our out-of-town guests while maintaining the customs of Hindu weddings. We rented out the stone amphitheater right near our hotel for our ceremony and designed a mandap (wedding altar) decorated with rich, pink fabrics (that matched the color of my sari) and pink, ivory and yellow pomanders and flower arrangements. The priest who officiated our wedding did an amazing job of translating the ancient Sanskrit verses for our guests so that they could understand all the intricate steps of our ceremony. Following the ceremony our guests were led to a cocktail reception in the foyer of the hotel decorated with my absolute favorite piece of the wedding- a 2-foot tall elephant covered completely with green and purple flowers. The elephant was a huge hit and nearly every one of our guests has a photo posing in front of it.
Our reception was the perfect end to the whole weekend. My husband and I started our first dance with a beautiful Bollywood love song but then broke into a fast-paced bhangra routine that our guests loved. My favorite part of the reception was the speeches. My brother gave an emotional speech that brought tears to everyone's eyes and my husband translated the lyrics of our first dance song which were:
"You are the earth I walk on. No matter where I go to, my destination is you.
Without You, I have nowhere to go. No matter where I walk to, my destination is you."
Photographer: Jenna Walker Photographers / Event Planner: The Celebration Studio / Event Stylist: The Celebration Studio / Décor: The Celebration Studio & Décor N' More / Florist: Boulder Blooms / Cinematography: Kyle Hodge Films / Venue: The Westin Westminster / Caterer: The Westin Westminster & India's Pearl / DJ: DJ Robby Dhillon from Detroit / Sound Design: SSS Productions / Dhol Player: Jaspreet Singh / Baraat Horse: Jeannyne Lyons / Lighting: Lighting & Design by Scott / Rentals: Colorado Party Rentals / Cupcakes & Cake Pops: Tee & Cakes / Hair: Leslie's Arts / Makeup: Sara Duffey Artistry
Tee & Cakes
is a member of our Little Black Book, Love what you see? Take a look at their portfolios. For more information on how Little Black Book Members are chosen
click here
.