Location
Categories
Tags
Vendors
Style
Flowers
We are a bunch of serious flower admirers here at SMP, so of course, we adore our LBB floral designers and all the beauty they bring to a wedding. Which is exactly why when we heard Liz of Fiori Flowers was tying the knot on a Northern Michigan Cherry Farm, and Widdis Photography was on hand to capture the gorgeous day, we just had to see – and to share.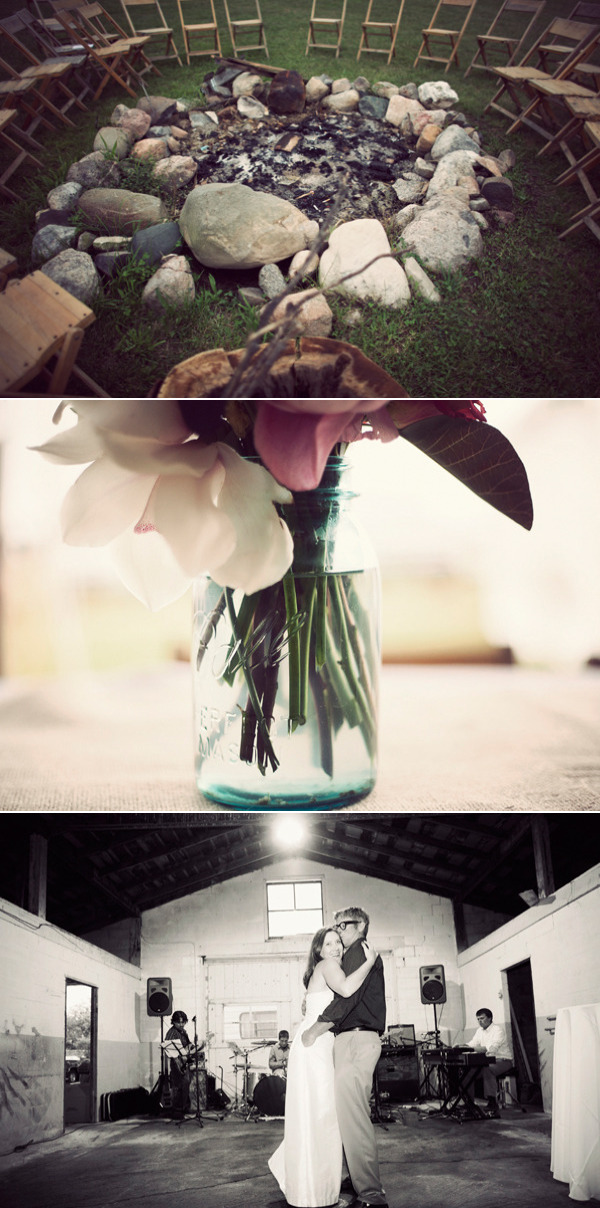 Calvin and I are both from Michigan, but we met in Boulder, Colorado. After some debate on location, we settled on our home state as our wedding "destination." We knew it would be a big wedding, so the structure had to be relaxed, comfortable and not fussy. Despite planning it from Colorado, everything seemed to fall into place.
Calvin's family are second generation cherry farmers, and it seemed only natural to hold our ceremony on their land. We were surrounded by three lakes, our two dogs and 300 of our dearest, most amazing family and friends.
We opted for a family style BBQ, with a locally raised pig specifically selected for our wedding, and tons of delicious sides with lots of vegetables. Calvin's cousin made all of our individual sized deserts, with a bit of help from a gluten free chef in the area; as we have several family and friends who have food allergies. We wanted to support our home state as much as possible, and used vendors from Michigan instead of flying in people we had relationships with from Colorado.
As the owner of Fiori Flowers in Boulder, I knew from experience that the details make the day. I was gifted about 50 blue ball jars from my grandmother, and used these for the vased centerpieces. I then surrounded them with tillandsia xerographica, potted orchids, and home grown hens and chicks nestled in wooden berry boxes. I was told that when everyone arrived at the reception, our guests just walked up and down the lines of table to admire everything!
Everyone chipped in to help. It was such an outpouring of love from every one. From our grandmothers who stapled, sewed and then slipped behind the bar to show off their bartending skills! To Calvin's dad who meticulously harvested, sprayed and prepared the land so we would be sure to have the day we wanted. Finally, one of our best friends, John, who became ordained specifically to marry us.
Our band was a family friend of the bride's and graciously covered all of our favorite Grateful Dead songs. We ended the night with a bonfire, people in jeans and a surprise fireworks show!
We love this land so much, and wanted to capture the beauty and simplicity that is Northern Michigan, while giving it a little sophistication with some awesome flowers, a great band and fantastic food. We loved working with Kathy Widdis of Widdis Photography. She was as cool and laid back as the party itself.
It couldn't have been a more perfect day! We will cherish it for the rest of our lives!
Photography: Widdis Photography / Flowers: Fiori Flowers / Ceremony Location: Nagy Orchards, Kewadin, Michigan / Reception Location: Nagy Orchards, Kewadin, Michigan / Invitations: Sproullie Designs / Dress: Lula Kate
LulaKate is a member of our Look Book. For more information on how members are chosen, click here.
Widdis Photography
and
Sproullie Designs
are members of our Little Black Book, Love what you see? Take a look at their portfolios. For more information on how Little Black Book Members are chosen
click here
.
Widdis Photography
VIEW PORTFOLIO
Sproullie Designs
VIEW PORTFOLIO