Location
Categories
Tags
Vendors
Venues
Style
Setting
Colors
I'm just going to say it. I needed this wedding today. Although I have this tendency of falling head over heels for the vast majority of the weddings featured on Style Me Pretty, it's weddings just like this that really get me. That stir something in my soul, that get the butterflies going and the pure joy a-brewing. The homegrown, eclectic, spirited weddings where happiness takes center stage. Oh and a bride that is all gorgeous and chic and not afraid to really design a day that captures her couple style. Mad love for this Something Pretty photographed affair and there is SO much more right here.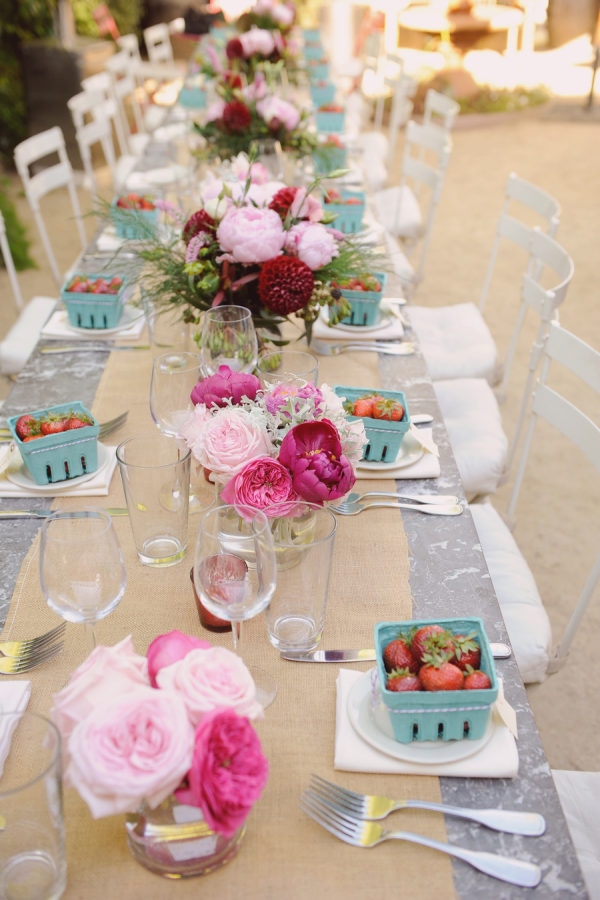 Click here for the FULL wedding!
From Erin of Something Pretty Photography… This wedding was a super small intimate affair full of beautiful details. Melanie is a blogger/designer/stylist from Atlanta, Georgia, where she and David both live. David had moved from Portland, and they decided that they wanted to do a destination wedding at a restaurant in Sonoma with just a few close friends and family. Melanie is all about all things sweet and lovely, and it really showed in her colors and details — all shades of pink and red! They got married at the restaurant, Harvest Moon Cafe, in downtown Sonoma, and had a sit-down dinner for the guests. Melanie made all the paper goods, the custom bags for guests, the fruit-filled place cards and the flower arrangements. The rest of the hand made details including a watercolor map of Sonoma, boutonnieres, and a hand-crafted sign with their names was done by Ivey Handcrafted. The photography was by me, Something Pretty Photography, and the favors (red velvet cupcake mix) were from dot's cupcakes. Melanie was also doing all of this six months pregnant! It was very magical and just really pretty.
Wedding Photography: Something Pretty Photography / Wedding Venue + Cake: Harvest Moon Cafe in Sonoma, California / Event Styling, Paper Goods + Floral Design: Melanie Hernquist (The Bride) of Lucky + Lovely / Handmade Details: Ivey Handcrafted / Cupcake Mix Favors: dots cupcakes / Wedding Dress: Bought Secondhand / Shoes: Nine West