Location
Tags
Designers
Vendors
Colors
This Puerto Vallarta wedding is sure to go down in destination wedding history.  It has certainly made its way into my wedding loving heart at lighting speed.  It is a little bohemian, a little rock n' roll and super chic which is no surprise considering The Dazzling Details was behind the perfect beach design and the crazy talented Jeff Newsom behind the lens.  The gallery is chock full of even more seriously amazing details so head over there now!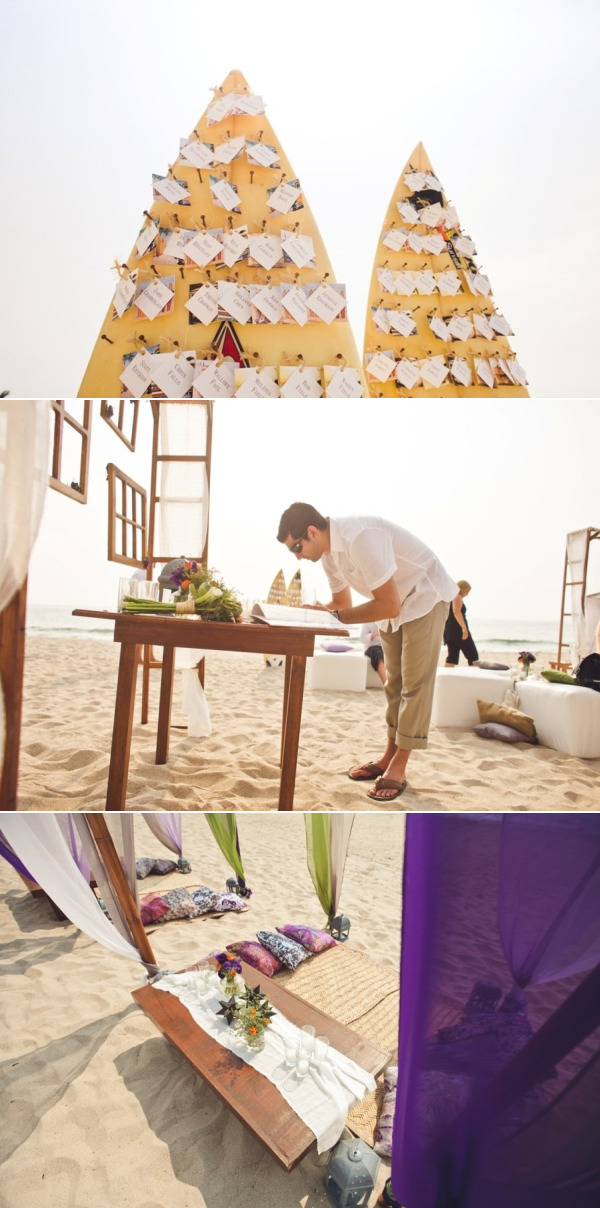 Click here for the FULL wedding!
Cana Video Productions is one of my favorite videographers and after watching this sweet film you'll see why!

From Kristin of The Dazzling Details… Devon's one request was to be able to surf the morning of his wedding. Kara has a love of all lanterns, and at the top of the list are star lanterns. Relaxed, romantic and intimate was important. On the beach was equally important. They are a little bit Bohemian, a little bit rock and roll, a lot about family and friends. The color palette of green, gray and purple blended perfectly with natural wood to create one of the most beautiful wedding atmospheres I have ever experienced. We wanted the ceremony to be all about the natural beauty of the beach, so a canopy was created with natural bamboo and a simple white linen draped off-center and surrounded with upside-down hanging greenery. Lanterns filled with florals lined the aisle, and a shoe check area was created to encourage bare-footed-ness! The bridesmaids carried beautiful mini-bouquets, and the flower girl held the most adorable pillow (hanging on a branch) created from the same fabrics used in lounge pillows and embroidered with K + D.
While the bride and groom took a few photos following the ceremony, some guests enjoyed cocktails at the nearby palapa bar to avoid the hot sun while others braved the heat and relaxed in lounge area beneath hotel umbrellas! Beautiful beach cabanas were built with oversized pillows and low tables for those who wanted to relax right on the beach floor with a striking view of the ocean just yards away. And with a groom who absolutely had to surf the morning of his wedding, well, it's just clear that surfing somehow had to be incorporated into the decor as well. We searched and searched and found old surf boards in Sayulita that we drilled holes into, hammered oxidized nails into and hung escort cards on twine right on the boards. The escort cards, which were each marked with a vintage surfing image, led guests to their dinner tables where the same image popped out of the florals. The tables were topped with burlap centers and decorated with an eclectic grouping of pieces including lanterns, simple jar arrangements, limes, tin stars and twigs. The result was so natural, stunning and fun!
During dinner, guests toasted, chatted and watched the sun drop in to the evening sky. And, of course, prepared themselves for the hours of dancing ahead. The dance floor was created especially for Kara; in the middle of the floor, we constructed a small canopy with upside-down greenery around the perimeter and dozens of star lanterns suspended from underneath to add a twinkling bit of romance to illuminate the dance floor once darkness had set in. Later on in the evening, cake was cut and served while guests mingled in lounge areas and on the beach.
Wedding Photography: Jeff Newsom / Wedding Coordination, Design + Flowers: The Dazzling Details / Wedding Cinematography: Drew Barefoot + Ben Potter of Cana Video Productions / Wedding Venue + Catering: Dreams Resort Puerto Vallarta / Wedding Cake: Charme Reposteria / DJ: Sonido Extasis / Trio: Trio Montecarlo / Bride's Hair + Makeup: The Salon at Dreams Resort Puerto Vallarta / Wedding Gown: Watters "Sonora" / Bridesmaids' Dresses: BCBG
Watters is a member of our Look Book. For more information on how members are chosen, click here.
The Dazzling Details
is a member of our Little Black Book, Love what you see? Take a look at their portfolios. For more information on how Little Black Book Members are chosen
click here
.