Location
Categories
Tags
Vendors
Venues
San Ysidro is home to one of the most spectacular wedding venues on the face of the planet. So when you layer on top of that a wedding design by beloved designer, Ariel Yve Design, sweets by Vanilla Bake Shop and flowers + design  by Modern Day Design..well. You basically have wedding blogger gold. And this little fete just happens to have a particularly lovely seasonal vibe with pretty red florals, an ambiance that is as warm as it is chic and a general feeling of pure joy. So we simply couldn't resist. Just don't forget to click here to see the whole beautiful shebang.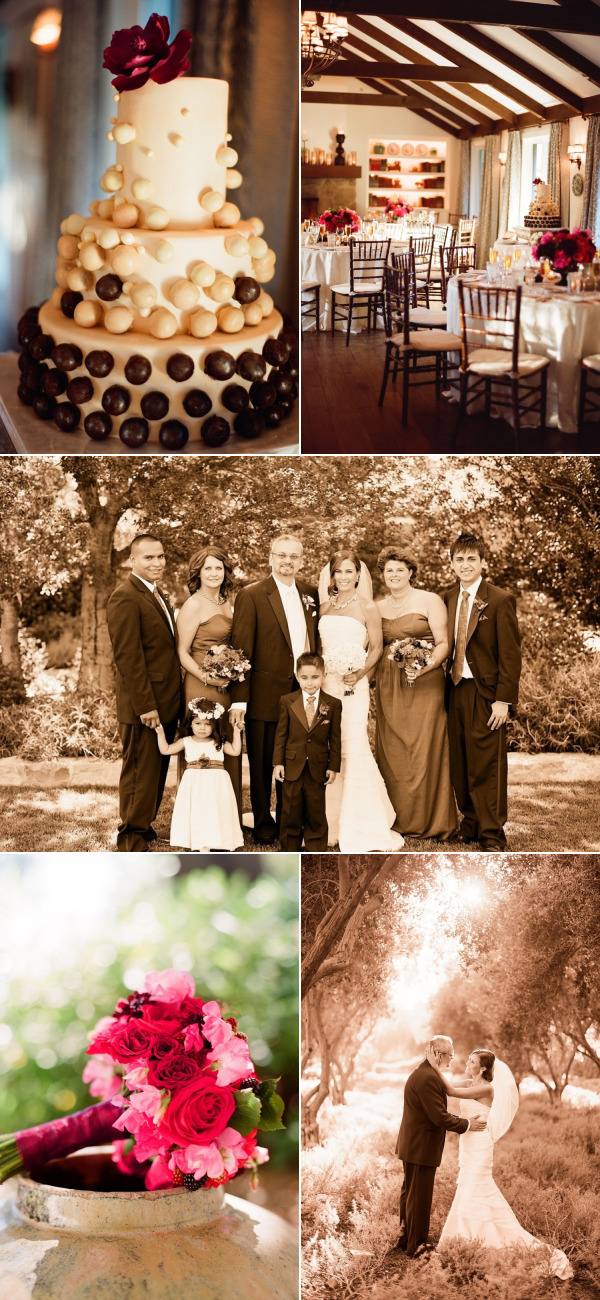 Click here to see the entire gallery of images!
From Ariel Yve Design…The wedding of Karin and Roberto was an intimate family affair. The couple exchanged tearful vows on a sunny September afternoon in the lush wedding garden at the San Ysidro Ranch. The guests in attendance spanned 4 generations, and even included two of the couple's adorable Jack Russell Terriers…Cricket and Rio.
Karin and Roberto originally fell in love with Santa Barbara on assignment as art directors for an editorial photo shoot many years ago. Both the bride and groom are quite accomplished in the Advertising/Marketing world, and both are fabulously creative. Roberto, the groom, took an active role throughout the planning process by employing his keen eye and graphic design talents…creating every single printed item for the wedding. He designed everything from the save the dates, to the custom wedding logo, to the invitation, the programs, menus, table numbers….and even an extraordinarily creative escort card idea that looked like a hotel registration book, but was a guide for the guests to find their seating assignments.
The bride's sweet sentiment and southern style set the tone for the celebration. She wanted a classic color palette with pops of color for interest. From the very beginning, the couple wanted to create a gracious environment with an abundance of food, conversation and fun…and that is exactly what they got. Everyone in attendance truly had a phenomenal time…even the vendors! 
After guests dined on a bountiful buffet dinner of local and seasonal foods, (including the San Ysidro Ranch's signature Prosciutto di Parma with four cheese mac and cheese) Roberto surprised the Karin with a serenade sung by a lively mariachi band.
Later in the evening as guests danced to the couple's favorite mix of songs from the 80′s, the couple "cut" their cake. Well actually, they exchanged cake balls. Rather than a traditional tiered cake, Karin wanted to serve something that was popular from her hometown in Texas…a cake ball wedding cake display. Between dance sets, guests helped themselves to as many red velvet, chocolate truffle and strawberry champagne cake balls as their heart's desired.
As the celebration came to a close, the party continued for the couple's 40 guests in the hotel's Angel and Plow lounge far into the wee hours of the morning. No one wanted the great conversations, festivities or memories of that magical night to come to an end.
Planning + Design: Ariel Yve Design / Wedding Cake: Vanilla Bake Shop / DJ: Goodbeat Productions / Floral Design: Modern Day Design / Invitations: The Groom, Roberto Saucedo / Hair: Sheila Raye Stone / Linens: La Tavola Linen / Make-up: Meghan McClain / Officiant: Reverend Jeff Holland / Wedding Photography: Megan Sorel Photography / Rentals: Classic Party Rentals / Venue: San Ysidro Ranch
Vanilla Bake Shop
and
La Tavola Fine Linen Rental
are members of our Little Black Book, Love what you see? Take a look at their portfolios.
Vanilla Bake Shop
VIEW PORTFOLIO
La Tavola Fine Linen Rental
VIEW PORTFOLIO
For more information on how Little Black Book Members are chosen click here.