Location
Categories
Tags
Designers
Vendors
Season
Fall weddings are always pretty spectacular, but this past fall's weddings seemed to be even more so than usual!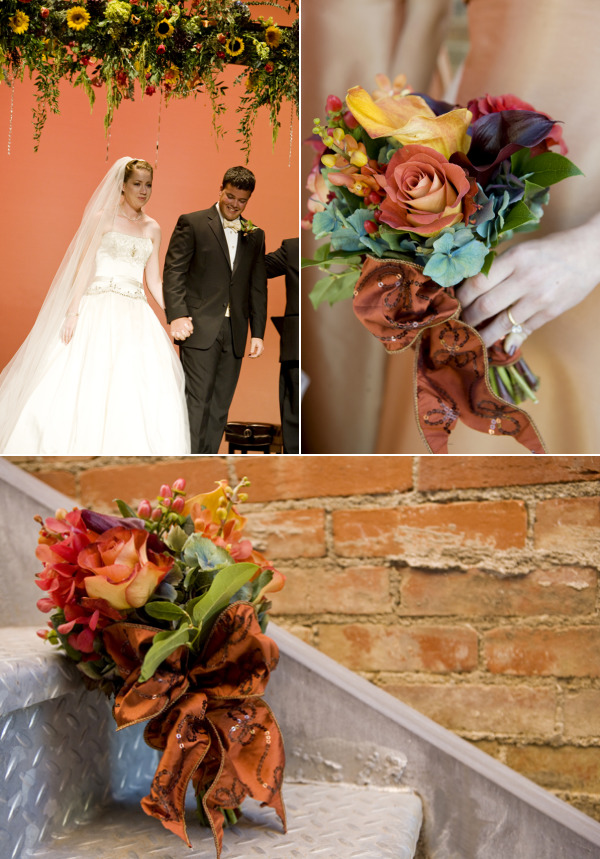 And today's feature is no exception! Sent to us by LBB photographer Adrienne Maples, Erica & Brent's magnificent October wedding celebration began with the warmth of an awesome autumn day and culminated in a vibrant palette from around-the-world! Just wait 'til you see!
First … a peek at Erica's lovely ladies …
From Adrienne … Erica loves autumn so she chose an October wedding date in order to feature the beautiful fall colors. The ceremony was held at The Missouri Theatre in Columbia, followed by a lively reception at The Tiger hotel. The theme of the wedding was inspired by their love of food and cultures from around the world.
As guests arrived at The Tiger Hotel, each was given a passport which lead them to several themed rooms throughout the entire hotel.
The themes included a Grand Ballroom, an African Safari room, French Bistro, a Raw Bar on the top floor and finally a colorful Moroccan room complete with belly dancer.
Each room featured music, food and signature drinks chosen by the couple.
Floral design by The Wild Flower.

Wow. Simply Gorgeous. Congratulations to Erica & Brent! And our thanks to Adrienne Maples for sharing!!!
Credits ~ Wedding Gown by Kenneth Pool, Floral Design by The Wild Flower, Entertainment by Erin Bode,